Bow Hunting South Africa
Bow Hunting South Africa for the avid bow hunter. South Africa offers the visiting bow hunter a tremendous variety of species to choose from during a hunting Safari.  Most visiting bow hunters are amazed at the number of shot opportunities provided during each hunting day. A typical hunting day in the bush veld will offer three to four good shot windows of opportunity at highly desirable African game species.
What Equipment is required for a successful South African Bow hunting trip?
Bow hunting South African PLANES game.
Bow hunting plains game in South Africa requires a bow with a draw weight of 65 pounds or more. The bow you choose should be capable of shooting a 400 gr arrow at 260 feet per second or higher because some of the antelope will string jump. Broadheads are a critical component of your bow hunting setup. A broadhead with a large cutting diameter will give you an increased margin of error and a high success rate.
Big game bow hunting
Hunting South African big game with bow and arrow demands serious equipment, we recommend nothing less than a 80 pound bow, shooting an 800 gr arrow with a fixed blade broadhead. Why? Large thick skinned game such as African Buffalo, Hippo and Rhino are extremely tough to take down, especially with a bow. These animals have a thick skin with an armor plated rib cage and enormous shoulder bones to avoid. To be successful on these big game animals you need to shoot with pinpoint accuracy. Sufficient penetration to reach the vital organs will result in a short follow up and ultimate success.
Camoflage For Bowhunting in South Africa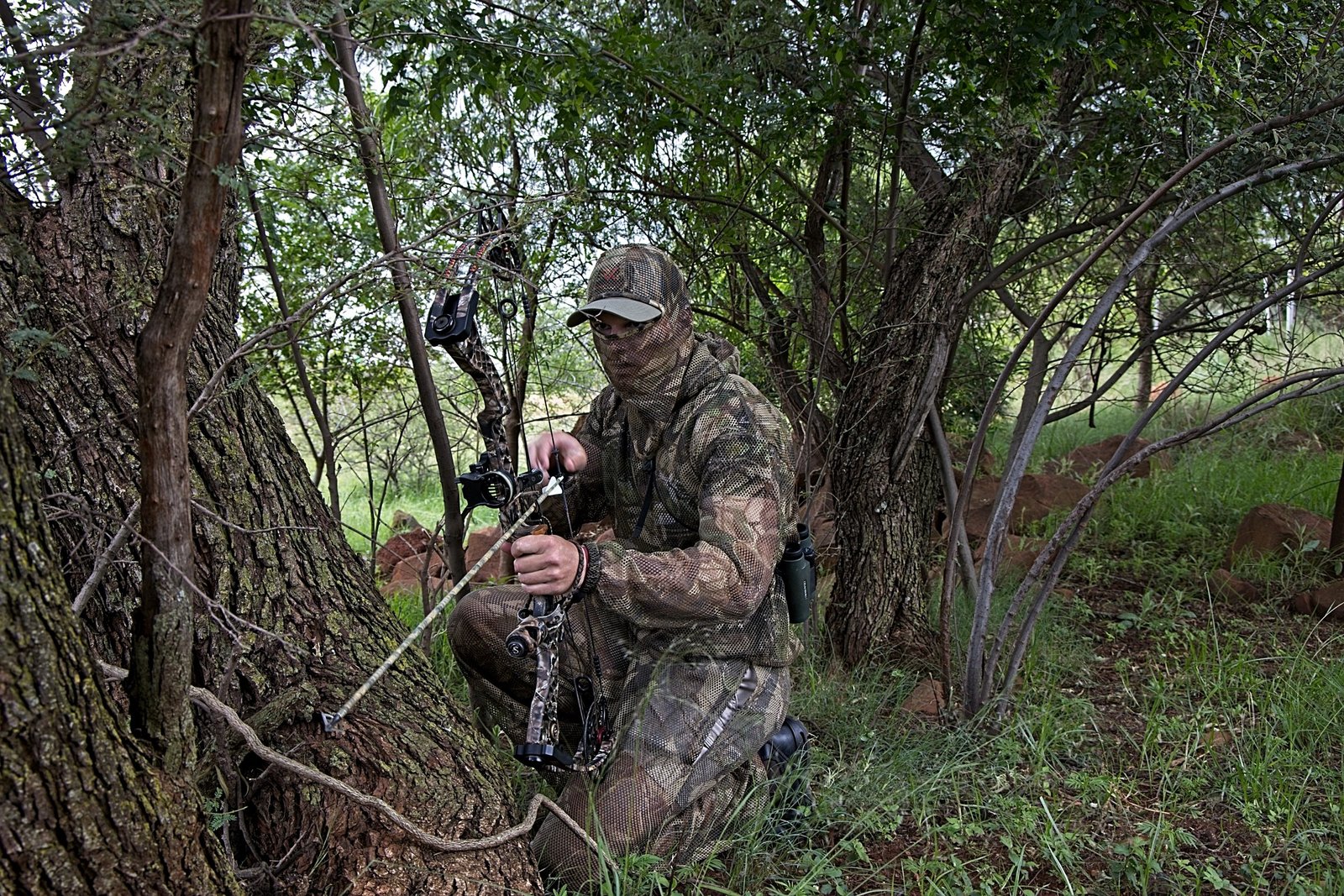 Our hunting season takes place during the winter time, so warm camo clothing will play a role in keeping you warm and comfortable during your South African hunt. If you will be bow hunting from a blind we recommend  a comfortable set of camouflage hunting gear, so animals will not be able to see you in the hunting blind. Camouflage hunting gear will also be required if you intend to stalk any of the available species.
Bow hunting south africa, methods for success.
Pit Blinds.
A typical pit blind is constructed by digging a hole in the ground typically 1 to 1.5 m deep. The blind is then completed by constructing four walls and a roof over the pit. The pit blind will normally be situated within 30 ft of a water hole, often some alfalfa will be put out to help attract game to the area. Hunting from a pit blind is probably the number one most successful method of bow hunting South Africa.
The reasons for the high rate of success include the following:
The shot angle is parallel  with the ground which aids in shot placement.
There is no up or down angle to take into consideration when placing your shot.
Both scent and sound are well contained within the blind, so wind direction is not a consideration.
While hunting dangerous game like cape buffalo you are perfectly safe within a pit blind.
The inside of the pit blind is dark so any movement while drawing your bow will not be seen.
Elevated Box Blinds
As the name suggests elevated box blinds are simply a box constructed on four legs above the ground. A well built box blind will have some of the advantages of the pit blind. Quite often the box blind is built from wooden slats which leave a small gap between each piece of timber. Elevated box blinds can yield a high success rate if a few things are taken into consideration.
The elevated box blind does not contain scent as well as a pit blind.
The shot needs to be placed more carefully because of the elevation.
The box blind may creek when you move about.
Extra care needs to be taken when climbing into a box blind with your bow.
Tree Stands
Trees stands consist of a platform attached to a tree. Usually a step ladder is then secured against the tree to allow you to climb up to the platform. While you often have a great view of approaching animals, the tree stand does not always provide the best concealment.
Walk and stalk
One of the most challenging methods of bow hunting South Africa is commonly referred to as the walk and stalk hunt.  While walk and stalk hunting is the least successful method, it is often the most rewarding.
Walk and stalk bow hunting will challenge the experienced bow hunter to the maximum. This method requires constant attention to scent control and concealment. African game animals are always alert to anything out of place and will disappear in a heartbeat. Shot opportunities happen in an instant and need to be taken without hesitation.
The walk and stalk style of hunting requires the hunter and Professional hunter to stalk quietly and carefully into the wind. Once the quarry is spotted the hunter will stalk slowly to within effective shooting range. The hunter needs to draw his bow and release a well placed arrow all without being seen.
A Typical bow hunting day
A typical day while bow hunting South Africa will look like this:
Your day will start with an early breakfast at 6 am with your Professional Hunter. You will then be driven to a hunting blind were you will sit and wait for animals to come and have a drink. There will be a packed lunch provided for you to eat in the blind. When you successfully shoot your trophy animal a recovery vehicle will be called in.  After the trophy is loaded your P.H. will spend a good amount of time photographing you with your trophy. The photographs are important as you will want to show them to friends and family when you get back home. It will be a while before you receive your trophy mounts.
After photographing your trophy you will be dropped off at a fresh blind so that you may have another opportunity to hunt some other game species. Your trophy will be taken to the skinning shed and carefully prepared for taxidermy.
At sunset you will be collected from the blind and returned to camp for a great evening discussing the events of the day over a cool sundowner.
The experienced Professional Hunters and staff at Black Horn Safaris are waiting to share this memorable experience with you. 
Inquire about booking your hunt today!