A good outfitter can provide a unique and exciting experience for hunters from all around the world. Outfitters offer guided hunts for a variety of trophy species, including big five for example Lion, Leopard, Cape Buffalo, and Elephant, as well as smaller game such as plains game species. The experience of safaris in Africa is unlike any other, with the opportunity to see and hunt animals in their natural habitat while experiencing the beauty of the African bushveld.
In this article we explain the role of the outfitter and how they provide invaluable assistance with your hunt booking with regards to hunting packages, prices and the best areas, they can even save you money on a hunt in South Africa.
The African Booking Agent
An outfitter is essentially a service provider who arranges and facilitates Safaris. This can include providing accommodation, transportation, equipment, and most importantly, expertise in African safaris with regards to the local wildlife and environment. In South Africa, outfitters are required to be licensed by the government, and there are strict regulations in place to ensure the safety and well-being of both the hunters and the animals.
Think of the Safari Outfitter as you would your travel agency when you book a trip to any other destination. He will make all of your in country travel and accommodation arrangements and make sure that your hunt goes smoothly and as planned. The safari outfitter will employ all of the cooks and camp staff, the Professional Hunter, trackers and skinners and will provide the vehicles and equipment needed for a successful hunt.
Legality in South Africa
Any person who is not a South African citizen is required by law to hunt under the supervision of hunting outfitters and professional hunters. It makes no difference which province you intend to hunt in or which species you will be hunting, legally you are obligated to engage the services of a Safari Outfitter.
Hunting of wild animals or exotic animals by clients H3
52.1 A client shall not hunt a wild animal or exotic animal unless-
a) The hunt has been organized by a hunting outfitter and
b) He is escorted by a licensed professional hunter.
52.2 A professional hunter shall see to it that his client does not hunt contrary to the provisions of this Ordinance and in order to do so, he may give his client any lawful instruction.
52.3 A client shall obey any instruction given in terms of subsection 2.
52.4 Any person who contravenes or fails to comply with subsection 1, 2 or 3 shall be guilty of an offence and liable on conviction to a fine or imprisonment or to such fine and such imprisonment.
What does an African Hunting Outfitter do?
They are responsible for all aspects of the safari.
He will arrange to have the client collected at the airport on arrival and transport him/her to the destination.
He is responsible for the level of service and quality of the camp.
He employs the camp staff and chef who will prepare the food for the duration of the hunt.
He will make sure that the camp has all of the supplies needed for the clients stay in camp, including food and drinks, cleaning materials and anything else that may be required.
They employ the guide that will manage the day to day activities.
He employs the trackers and skinners that are essential to the ultimate success of the safari.
He makes sure that the safari vehicle is serviceable and fit for the purpose of operating in the bushveld and rugged terrain.
They will lease the concession from the land owner and will check that there are sufficient quantities and good trophy quality of game in the hunting area.
He will make sure that your trophies are properly skinned and prepared to send to the Taxidermist.
He will arrange to have the trophies transported to the Taxidermist for mounting or preparation of dipping and shipping to you back home.
He will arrange the necessary permits to allow you to hunt the trophy animals on your shopping list.
They will complete all of the paperwork needed to comply with the laws and hunting regulations.
Licensing Requirements
A Safari outfitter requires a license to offer their services from the Provincial Nature Conservation Authorities. In order to obtain a license, the outfitter must meet certain criteria set by the Department of Nature Conservation. The licensing process generally involves passing a number of written and practical examinations. The Outfitter must then meet a number of further requirements before he can finally apply for a Permit to operate and offer hunting packages.
Once the application is approved and the required documents are submitted and the conservation authorities will inspect the camp to ensure that it complies with all local regulations.
If all requirements are met and the license is granted, it must however be renewed every three years. Outfitters are required to submit hunt returns after every hunt. The renewal process requires re-submission of all documents as well as payment of a fee. Failure to renew can result in penalties or even revocation of the license, so it's important for the outfitter to stay on top of their regulatory obligations.
The Role of Hunting Outfitters in Conservation Efforts
Despite the controversy surrounding African hunting safaris, many outfitters in southern Africa are working to promote responsible and sustainable practices that benefit both wildlife populations and local communities. These outfitters work with local governments and conservation organizations to develop programs that support conservation efforts and promote sustainable wildlife management.
One way that the outfitter community contribute to conservation efforts is by providing funding for conservation programs. Many outfitters donate a portion of their hunting fees to local conservation organizations, which use the funds to support research, habitat restoration, and other conservation efforts. Additionally, trophy hunting fees can provide an incentive for local land owners to protect wildlife habitats and offer trophy hunting.
Wildlife Management
Outfitters also play a role in wildlife management, by helping to control populations of overpopulated species. By pursuing these species, outfitters can help to protect native wildlife populations, and prevent the huge deaths that occur during droughts. Outfitters and their PH's typically hunt old trophy animals reaching the end of their life span. This has two immediate benefits in that it brings much needed revenue to the land owner and also saves the aged animal from dying of starvation once their strength and teeth have declined.
For example, many outfitters offer hunting safari packages that include not only hunting, but also opportunities to explore the local culture and wildlife. This can include visits to wildlife reserves and national parks such as The Kruger National Park, as well as interactions with local communities and conservation organizations.
In terms of the African hunting safari experience itself, outfitters are typically very good at what they do, and offer a range of options to suit the preferences and budgets of their clients. For example, some outfitters may specialize in bow hunting safaris, while others may offer guided hunts using rifles or other firearms.
Ethical Considerations
The cost of an African safari can vary widely depending on a number of factors, including the species being hunted, the duration of the hunting safari, and the level of service provided by the outfitter. One of the key considerations for anyone planning safaris in South Africa is the ethical and conservation implications of their Safari. While hunting safaris can be a thrilling and rewarding experience, it is important to be aware of the potential impact that hunting can have on wildlife populations and ecosystems. Ethical fair chase hunting is of paramount importance.
Some important factors to consider when choosing an outfitter for an African hunting safari include their track record in terms of ethical hunting practices, their commitment to conservation and sustainability, and their willingness to work with local communities and organizations to promote responsible hunting and practice fair chase hunting.
Hunting in South Africa
Hunting has been a part of human culture for thousands of years. In South Africa, indigenous peoples have hunted for food and other resources since ancient times. The arrival of European colonizers in the 17th century brought new methods to the region, with Europeans hunting for sport and trophies. This practice of sport hunting eventually led to the creation of outfitting companies and Professional Hunters that catered to hunters from all over the world.
Today, South Africa is one of the top destinations for an African Safari. The country's vast and diverse wildlife populations provide a unique opportunity for hunters to experience the thrill of the hunt while also contributing to conservation efforts.
However, the outfitter also faces a number of challenges, particularly when it comes to conservation and ethical considerations.
The Ecological Benefits of Hunting Safaris
Proponents of hunting argue that it can actually be beneficial for conservation efforts, as it provides a financial incentive for landowners to protect and maintain wildlife habitats. In addition, safaris can be used as a means of controlling populations of certain species, such as Elephants and certain plains game species, which can cause significant damage to crops and other vegetation.
Despite these controversies, booking agents continue to attract a large number of clients from around the world. In addition to the thrill of the hunt itself, many people are drawn to the unique cultural and historical aspects of Africa.
Africa's Abundance
A Premium booking agent can provide a wide range of services to make the hunting experience as enjoyable as possible. They are essentially guides and service providers who arrange and facilitate African Safaris, providing accommodation, transportation, equipment, and most importantly, expertise in the local African game animals and environment. The abundance of wildlife in southern Africa is one of the main reasons why booking agents have become increasingly popular in recent years. South Africa is home to a wide variety of plains game and big game, including the "Big Five" – Lion, Elephant, Cape Buffalo, Leopard, and Rhinoceros – which are among the most sought-after trophies on safaris. In addition, there are many other species of game that can be hunted, from antelope to wildebeest and Kudu.
Packages Available on an African Hunting Safaris
South Africa is a great destination for a safari adventure, offering an abundance of game to hunt. The most popular game animals include Cape Buffalo, Gemsbok, Blesbok, Blue Wildebeest, Kudu, Zebra, and Impala. These plains game species can be hunted in most provinces including the Limpopo province. In addition to these species, a variety of other animals are available for ethical fair chase hunting. Plains game hunting offers tremendous value for money and is normally the choice of the first timer new to African hunting.
Plains Game Packages
Plains game hunting packages can include most of the highly sought after trophy species. Prices for an all inclusive plains game hunt including 4 trophy animals and 7 days of guided safari will vary from around $ 5 500.00 and upwards. These package hunts will include accommodation at the lodge with meals, transportation from OR Tambo International airport, the hunting guide and his team of trackers and skinners. Hunting package cater for bow and rifle hunting to satisfy all trophy hunters.
A Hunting package can be made up to include any plains game species of your choice and include as many hunting days as would suit the hunting party. The choice is yours, you are unrestricted to create an unforgettable hunting safari tailored to suit your preferences.
Big Game Hunting Packages
A big 5 hunt for a Cape Buffalo including trophy fees would cost $ 12 500.00. This would include accommodation, meals and transportation as well as the services of professional hunters, trackers and skinners. Cape Buffalo are also available as bow safaris.
Custom Hunting Packages
There is a custom safari package available for both rifle and bow hunting. Just be aware that not every booking agent can offer exceptional bow hunting safaris. Bow hunting safaris are a relatively specialized field.
Extra options to be added to the African hunting Safari include trips to game reserves and national parks like The Kruger National Park, Pilanesberg and Addo Elephant Park for those interested in a Photographic safari.
It is clear that South Africa has something to offer every type of hunter looking for an exciting adventure with plenty of plains game hunting options available. With a variety of game ranging from small antelope species to Cape Buffalo, South African outfitters can help organize any hunting safari imaginable for the adventurous hunter looking for an experience like no other! The most sought after trophy species are all abundant and available in the Limpopo province.
Costs and Fees for Hunters
African safaris have a number of day fee options. Prices may vary slightly but on average Day fees for a plains game hunt will start at around $ 350.00 and for a dangerous game or Big 5 African hunting safari from around $ 450.00. These prices are dependent on whether you will be hunting alone with a PH or if you and a friend will share the cost of the guide and his team.
For an example of trophy fees a Blue Wildebeest will cost $ 1 300.00, Impala $ 600.00 and a trophy Kudu $ 3 400.00 and a Sable Bull around $ 5 000.00.
If you do not intend to bring your own rifle on your African hunting safari a rental service is provided.
Additional excursions such as visits to places of interest, nature reserves and monuments will all be at an added cost.
Guides and Services Provided
Having discussed the costs and fees associated with safaris, it's also important to investigate the services provided. Experienced guides are essential for a successful hunt, and all services offer experienced professionals who understand the local terrain and wildlife. For example, they will know how to track animals, evaluate trophy quality and tell you when to make the shot.
In addition to their knowledge of the region and its creatures, PH's will often provide other helpful services such as setting up blinds or stands in advance of your arrival, scouting locations for plains game activity during hunts, arranging transportation and recommending strategies based on your experience, level of fitness and preferences.
When booking with a good outfitter you increase the likely hood of having a great African hunting safari . Doing so will help ensure that you have access to knowledgeable guides who know the area well and can provide all of the necessary services for a successful hunting experience.
Hunting Lodge in Limpopo South
The hunting lodge will normally provide comfortable, well appointed rooms with en-suite bathrooms where you can rest during your African safari. Rooms are normally fully serviced during the day while you are out in the bush.
Meals
Meals are often of a very high standard equivalent to restaurant quality. Meals are prepared to suit all tastes and lodges regularly serve venison beef and pork and chicken to their guests. Dinners consist of three courses including horderves and dessert.
Bar
Almost all hunting camps are equipped with a well stocked bar and are able to serve most alcoholic beverages to suit your preference.
Lapa/Fire Pit
Most evenings will be spent around the fire pit, locally known as the Lapa, sipping a cool beverage and discussing the days hunt with your professional hunters
In Conclusion
An African hunting safari can be a great experience for all ages and skill levels. The adventure of being out in the African bush with it's vast variety of plains game, birds and wildlife is not easily forgotten. The African continent is a must visit for the avid hunter.
No matter your level of experience, plains game hunting in South Africa can be an exciting and rewarding adventure. With an experienced outfitter guiding you through the booking process, you can make sure that your hunt is legal, safe, and enjoyable.
Overall, if you're looking for a memorable African Safari experience, booking with a knowledgeable outfitter is a great way to ensure success.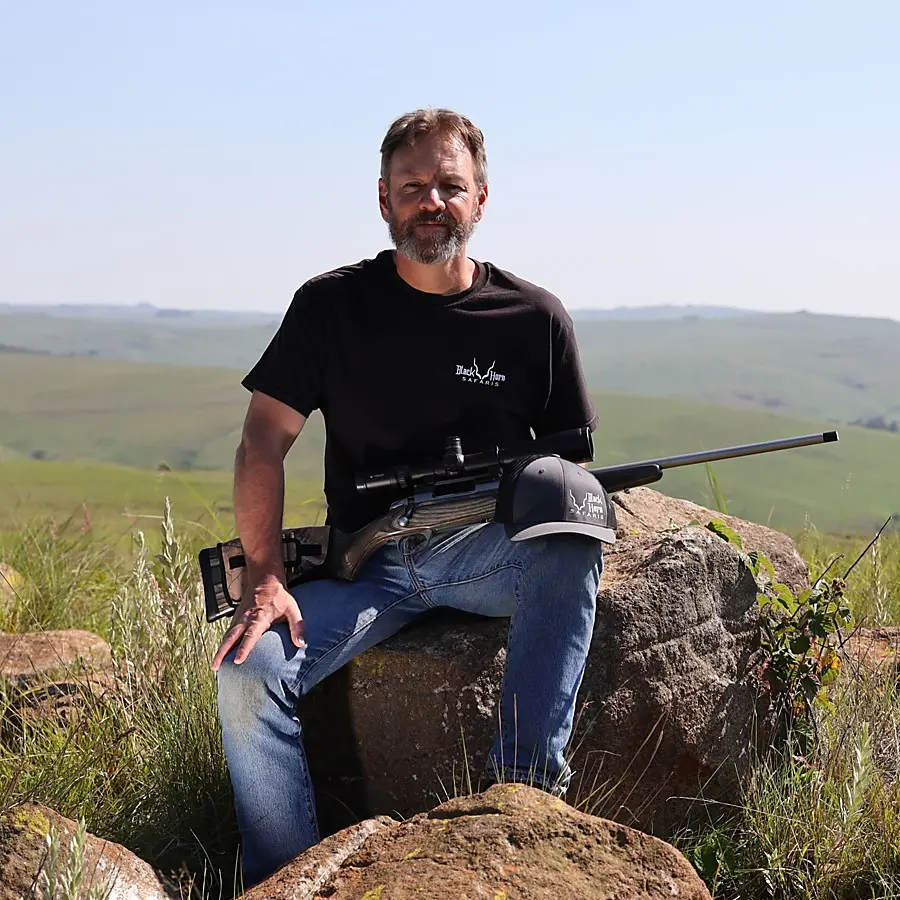 Adrian Anderson first obtained his Professional Hunters license in 1991. He is a Big Five and Dangerous Game licensed Professional Hunter and Hunting Outfitter. He has a tremendous love for wildlife and the African bush and enjoys sharing his knowledge with the hunting clients that he guides. Guiding hunters in Africa's wild places is a passion and seeing them succeed with their goals brings satisfaction. With knowledge of the Safari industry built up over 32 years he is well qualified to give guidance to his hunting clients.