Hunting Trophies in Africa
South Africa offers a wealth of diverse hunting opportunities. With abundant opportunities for taking world class plains game as well as certain Big 5 species. The hunter is sure to have the hunt of a lifetime. A hunt in South Africa is a well established tradition with numerous venues offering trophy species that are not obtainable in other African countries. To name but a few the Bontebok, Cape Greysbok and Black Wildebeest are all available.
South Africa has a well-established infrastructure meaning that services such as good quality accommodation, banks and medical assistance are freely available. Getting to your chosen hunting area is also a breeze either by road or air travel. The option of a private air charter flight is worth considering, when available. Not all hunting concessions are equipped with a landing strip.
Trophy hunting in Africa offers a unique and exhilarating experience that is steeped in tradition and often takes place in some of the most breathtaking landscapes on the continent. The hunt often begins with meticulous preparation, encompassing research about target species and potential hunting outfitters. On the hunt, the immense African landscapes – grassplains, rainforests, bushveld, and mountains – become the backdrop for the pursuit.
The hunting process itself involves patient tracking, strategic planning, and an intricate understanding of the animal's behavior. It's a blend of patience, anticipation, and adrenaline. The moment of success brings a sense of accomplishment, but also profound respect for the animal and its environment. The trophy – typically the animal's horns and skull, or hide serves as a physical reminder of the experience. Any hunting activities should adhere strictly to local laws and regulations and support conservation initiatives that contribute to the preservation of Africa's unique wildlife.
South Africa as a Trophy Hunting Destination
South Africa is divided into nine provinces. While trophy hunting is available in all provinces, some offer a greater diversity of species. The rainfall varies dramatically throughout the country this results in some areas having lush bush veld, while other areas are more arid and open. Consequently a prospective hunter needs to decide on the species they would like to hunt before choosing the hunting area. Some species are only found in extremely remote hunting areas. These species often require a standalone safari to secure the trophy. Thankfully there are good hunting areas that contain an abundance of game animals. With an abundance of game, the trophy hunter has the opportunity to hunt multiple different species during a single safari.
Plains Game and Dangerous Game Hunting
In South Africa, there are two main types of trophy hunting safaris, namely plains game hunting and dangerous game hunting. Plains game consists of the antelope species that habit the African grassplains and bushveld, and usually present little real danger to the hunters. Examples of plains game animals include Kudu, Wildebeest, Impala, Waterbuck, Zebra and Warthog. Dangerous game, on the other hand, are the animals that hit back and could even kill the trophy hunter. They present real challenges such as being unpredictable and often aggressive, thereby increasing both the risk and danger perceived in hunting these species. Animals classed under Dangerous game include Elephant, Cape buffalo, Lion, Hippo, Rhino, Crocodile and leopard.
Hunting with a Professional Hunter
Throughout your African hunting Safari you will be accompanied by a well-qualified and experienced Professional Hunter. Your Professional Hunter will guide you through animal species identification and trophy selection ensuring that you have a premium trophy hunting experience. At Black Horn Safaris we pride ourselves in being able to offer top quality hunting lodges and superior trophy quality animals to our hunting clients.
The plains game hunter will be well equipped for rifle hunting with gun firing a bullet between 140 and 250 grains at a velocity of between 2600 and 3000 ft/sec. We recommend the use of strong, well-constructed premium bullets with a bonded core. Some of the more popular calibers include 7 mm Remington Magnum, 3006 Springfield, 300 Winchester Magnum etc. If your hunt includes larger species such as Eland etc. your choice of caliber should tend to the 300 Magnum or larger. If you will be hunting in one of the more open areas where longer shots are expected, one of the faster magnums will be the perfect choice.
Big 5 and Dangerous Game Hunting
Hunting Dangerous game requires some careful thought when it comes to caliber choice. The minimum caliber for any of the Big 5 animals or other dangerous game such as Hippo is .375. A better choice would be in the range of .416 Remington/Rigby or bigger. Having said that shot placement is still of primary importance. You would be better off choosing a rifle caliber that you shoot well and have confidence in.
Hunting Rifle Optics
South Africa does not require anything special when it comes to rifle optics. For close range hunting in bush a variable rifle scope such as a 2-7 X 40 or 3-9 X 40 will be adequate. If your safari includes shooting at longer ranges in open grassland a variable such as 3-12 X 40 or 4-16 X would be the perfect choice. Should your quarry include Buffalo, Lion or Elephant your best choice would be either open sights or a low magnification optic such as 1-5 X 24.
Every serious trophy hunter owes him/her self the opportunity to hunt in Africa at least once. South Africa offers the perfect destination for an unforgettable trophy hunt. Hunting in South Africa is easily accessible, is relatively inexpensive and has great trophy quality animals. South Africa offers a varied choice of hunts .Some areas offer hunting that is vastly more challenging than other areas.
Hunting Packages
Packaged trophy hunts are a great way to start your African hunting career. These package deals are ideal as you can easily see what your hunt will cost you. Hunting Packages offer you a choice of different trophy animals at a price tailored to fit your hunting budget.
Hunting Safari prices in South Africa can vary greatly influenced by factors such as the type of game, the duration of the safari, the services included, and the luxury of the accommodation. At the lower end of the scale, a plains game hunting safari could cost between $ 3,000-$ 10,000 for a few days, inclusive of accommodation, meals, guide services, and the number of game species. At the higher end, a Dangerous Game hunting can range from $15,000 up to $ 30,000 or more, depending on the specific animals hunted and the duration of the hunt. These prices generally include accommodation, meals, professional hunting guides, and hunting licenses.
It is advisable to check directly with the hunting Outfitter for the most up to date pricing.
Hunting with Black Horn safaris
Black Horn Safaris offers the perfect South Africa Trophy hunting experience.
We offer an all-inclusive solution:
All Internal road transportation to and from the hunting concession
All meals and accommodation
Professional Hunters and trackers
Hunting licenses and documentation
Skinning and field preparation of trophies
Hunting and trophy recovery vehicles
FAQs Frequently Asked Questions
What are the popular hunting areas in South Africa?
The most popular hunting areas in South Africa are the Limpopo Province and the Eastern Cape. The Limpopo Province is home to an abundance of plains game species and all members of the Big Five. The Eastern Cape, another favored hunting area, offers an incredible diversity of species, from kudu and gemsbok to Cape buffalo, within its vast, rugged terrain.
What are the packages available for hunting safaris?
Bronze plains game package $6300
Includes 7 days hunting and trophy fees for 4 plains game species – 1 X Blue Wildebeest, 1 Zebra, 1 X Impala and 1 X Warthog. Price $ 6 300.00 (2 hunters sharing a Professional Hunter).
Zebra and Gemsbuck 5 species hunting package $ 7050
Includes 7 hunting days and trophy fees for 5 game species – 1 X Zebra, 1 X Gemsbuck, 1 X Blesbok, 1 X Impala and 1 X Warthog. Price 7 050.00 (2 hunters sharing a Professional Hunter).
Cape Buffalo Hunting Package
Includes 7 days hunting and trophy fees for 1 Cape Buffalo bull.
Price $ 13 350 (2 hunters hunting with 1 Professional Hunter).
Can I hunt dangerous game without prior experience?
Hunting dangerous game, often referred to as the "Big Five" (lion, elephant, buffalo, leopard, and rhinoceros) requires a great deal of skill, experience, and knowledge about the animals and their behavior. These animals are considered dangerous for a reason – they can be aggressive and unpredictable, particularly when threatened. As such, hunting them without prior experience is generally not advisable. Most reputable outfitters require proof of hunting experience, and many insist on a certain level of proficiency with the weapon to be used.
Are there any restrictions on hunting elephants in South Africa?
South Africa has strict regulations in place to manage hunting and ensure that it does not threaten wildlife populations. Elephant hunting is only legal with the necessary permits and must be conducted in designated areas under the guidance of a licensed professional hunter. The hunting of elephants, especially those with large ivory tusks, can be particularly regulated due to their ecological importance and the value of their tusks. It is important to check with your outfitter on current restrictions.
International Trade in Endangered Species (CITES) imposes its own restrictions on the international transport of ivory, all permits need to be in place before any trophies can be shipped.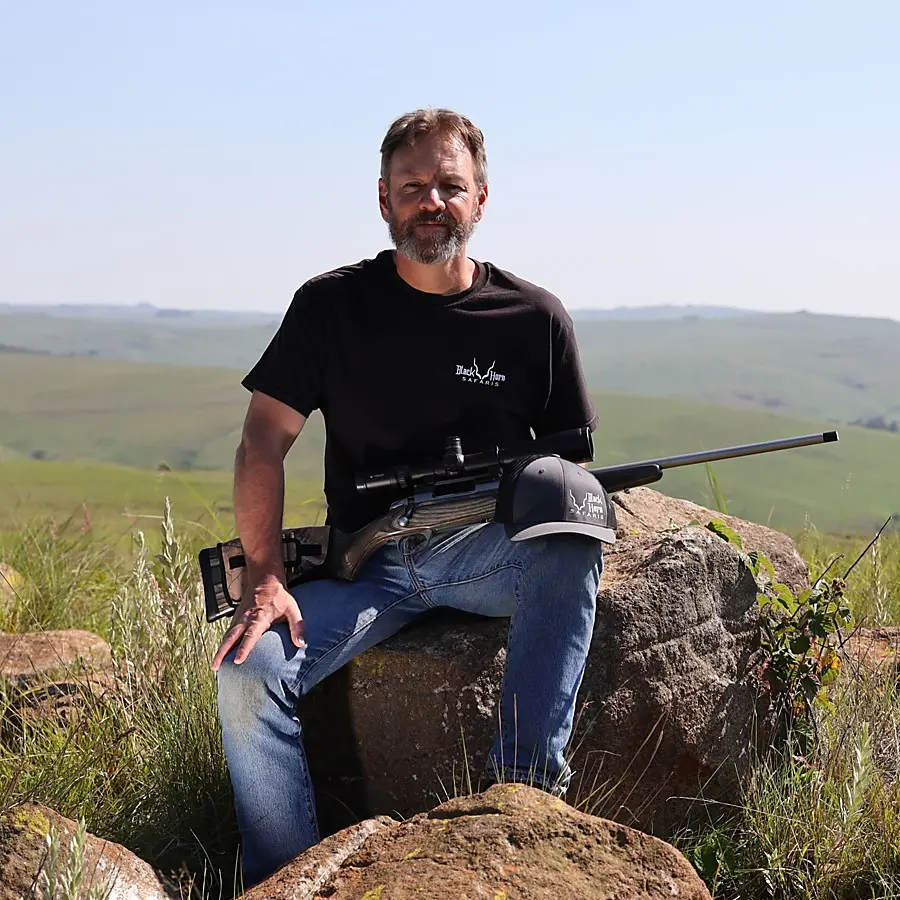 Adrian Anderson first obtained his Professional Hunters license in 1991. He is a Big Five and Dangerous Game licensed Professional Hunter and Hunting Outfitter. He has a tremendous love for wildlife and the African bush and enjoys sharing his knowledge with the hunting clients that he guides. Guiding hunters in Africa's wild places is a passion and seeing them succeed with their goals brings satisfaction. With knowledge of the Safari industry built up over 32 years he is well qualified to give guidance to his hunting clients.