The magnificent Sable antelope is a prized trophy for many bow hunters seeking a thrilling African safari experience. With its stunning dark coat and impressive curved horns, the Sable is not only a challenging target but also a symbol of power and beauty. If you've been dreaming of embarking on a bow hunt in South Africa to pursue this majestic species, it's important to understand the various factors that contribute to the overall price of such a hunt.
Sable Antelope Hunting Prices – What is the price of a Sable Bow Hunt?
The price in South Africa to bow hunt Sable or trophy fee is: $ 5 000.
A bull up to 38 inches $ 5 000
A Sable bull up to 41 inches $ 5 500
A bull over 41 inches $ 6 500
This is the trophy fee for the animal. To this you still need to add the day fees for the hunt.
Contact us for any additional information.
Day Fees for A Trophy Sable Hunt in South Africa
If you hunt 2 X 1 in other words you share the hunt and opportunities with a friend – wife – son the price is $ 350 per day for each hunter.
If you hunt 1 X 1 in other words you have the services of a guide to yourself and do not share the animals and opportunities with anyone else the price is $ 450 per day.
2 X 1 $ 350 per person per day – 1 X 1 $ 450 per person per day.
So the final all-inclusive price for the hunting safari will be number of days x the day fee plus the animal fee.
7 days X $ 350 = $ 2 450 + Trophy fee $ 5 000 for a Total Cost of $ 7 450
What is included in the day fees?
Daily Rate Includes
Guide Fees
Licenses
Meals
Accommodation
Soft drinks
limited Beer and Wine
Field preparation of your animals
Road transportation from Johannesburg International Airport
What is not included in the day fee?
Daily Rate Excludes
Airfare or flight
Taxidermy
Gratuities
Items of a personal nature
VAT on day fees at 15%
Safari Insurance
CITIES Permits
Rifle Hire (if rifle hunting)
Bow Hunting Safari – Sable Hunting Packages
The price of a bow hunting Package with a Sable Antelope is $ 7 450.
This package includes 7 hunting days and 1 Sable with horns of up to 38 inches. It also includes Accommodation, meals and soft drinks, the services of a professional hunter, the skinning and field preparation of your trophies and road transportation to and from Johannesburg International airport.
Please note: This price is for hunting 2 X 1. If hunting 1 X 1 the cost is $ 8 150.
To embark on an unforgettable South African bowhunting experience, it's crucial to select the right safari hunting package. Several factors influence the cost, including the duration of the hunt, the number of animals included, and the quality of the animal. Generally, packages range from basic options to luxurious experiences, catering to different preferences and budgets. There is also a Cape Buffalo and Sable Package available. This dangerous game hunt take place in Limpopo province, where there will also be opportunities to stalk other plains game species like Eland, Kudu, Wildebeest, Roan and Nyala which you may come across while looking for the Sable.
There are various hunting methods available to you for example spot and stalk and hunting from a blind over waterholes. Each method will produce hunting opportunities and also a great hunting experience. Remember that shot placement is of paramount importance, a lung shot will put the animal down within seconds with minimal suffering. The best time to hunt is during the winter months from April to the end of September.
Factors Affecting the Cost of Hunting South African Sable
Location:
The cost in South Africa of a Sable trip can vary depending on the specific location and hunting area. Some game reserves or private hunting concessions may have a higher price due to factors such as exclusivity, larger populations of animals, or better infrastructure.
Trophy Cost:
Typically, a trophy fee is charged for harvesting this African antelope. This fee can range from $5,000 to $6 500, depending on the size and quality of the animal. This fee is separate from the daily hunting rates and covers the cost of the animal itself.
Daily Hunting Rates:
In addition to the animal fee, safari goers are also required to pay for their daily hunting rates. These rates usually include accommodation, meals, professional hunting guides, trackers, and other essential services. Depending on the lodge or outfitter, these rates can range from $ 350 to $ 500 per person per day.
Transportation:
Hunters must also consider the cost of transportation to and from the concession area. This includes airfare, airport transfers, and any additional ground transportation required during the trip. The price of transportation will vary depending on your location and the distance to the destination.
Duration of the Hunt:
The duration of the safari will affect the overall cost. Longer trips allow for more opportunities, increasing the chances of successfully harvesting a Sable. However, longer trips also incur additional daily fees and expenses, so it is essential to consider the balance between time and budget.
Additional Expenses:
Other expenses to consider include the cost of obtaining necessary permits and licenses, this is normally done by the Hunting Outfitter, taxidermy fees for preparing and shipping your animals, and any additional activities or excursions you may wish to partake in during your stay.
Tips for Budgeting a Hunt for Sable
Research Outfitters and Hunting Areas:
Take the time to research different outfitters and areas in South Africa. Compare their rates, services, and reputation to determine which one offers the best value for your budget. Reading reviews and testimonials from previous visitors can provide valuable insights.
Consider Hunting with a Friend:
If you are open to sharing the trip with somebody else, can help reduce individual costs. Many outfitters offer a two on one rate that is reduced ($ 350), where the expenses are shared among the participants.
Plan Well in Advance:
Booking your safari well in advance can often lead to better deals and discounts. Outfitters may offer early-bird specials or promotional rates for those who plan ahead. Additionally, this allows you ample time to save and budget for your dream trip.
Be Flexible with Dates:
Consider being flexible with your travel dates, as certain times of the year may have lower rates due to seasonal factors. However, it is important to keep in mind the optimal hunting seasons for Sable, normally April to October, and plan accordingly.
Communicate with the Outfitter:
Once you have chosen an outfitter, communicate openly with them about your budget and expectations. They may be able to tailor a package that meets your specific needs while staying within your budget. Don't be afraid to ask questions and gather all the information.
Conclusion
In South Africa Pursuing Sable is a thrilling African hunting Safari that can provide lifelong memories. However, it is important to understand and consider the various factors that contribute to the overall cost of such a. By researching, planning, and communicating effectively with outfitters, you can ensure that your experience stays within your budget while fulfilling your dreams of pursuing these magnificent antelope.
FAQ'S Frequently Asked Questions
What are the factors that affect the cost in South Africa of hunting Sable?
The factors that affect the cost in South Africa of a Sable trip include the animal fee, day rates, transportation, duration of the trip, and additional expenses.
How much is the typical fee for harvesting a Sable?
The fee for harvesting a Sable can range from $ 5,000 to $ 9,000, depending on the size and quality of the animal.
What is included in the daily fees for bow hunters?
The daily fees for hunters usually include accommodation, meals, professional guides, trackers, and other essential services. These rates can range from $ 350 to $ 1 000 per day.
What other expenses should hunters consider when budgeting for a hunt?
Hunters should also consider the cost of transportation, taxidermy fees, and any additional activities or excursions they may wish to partake in during their stay.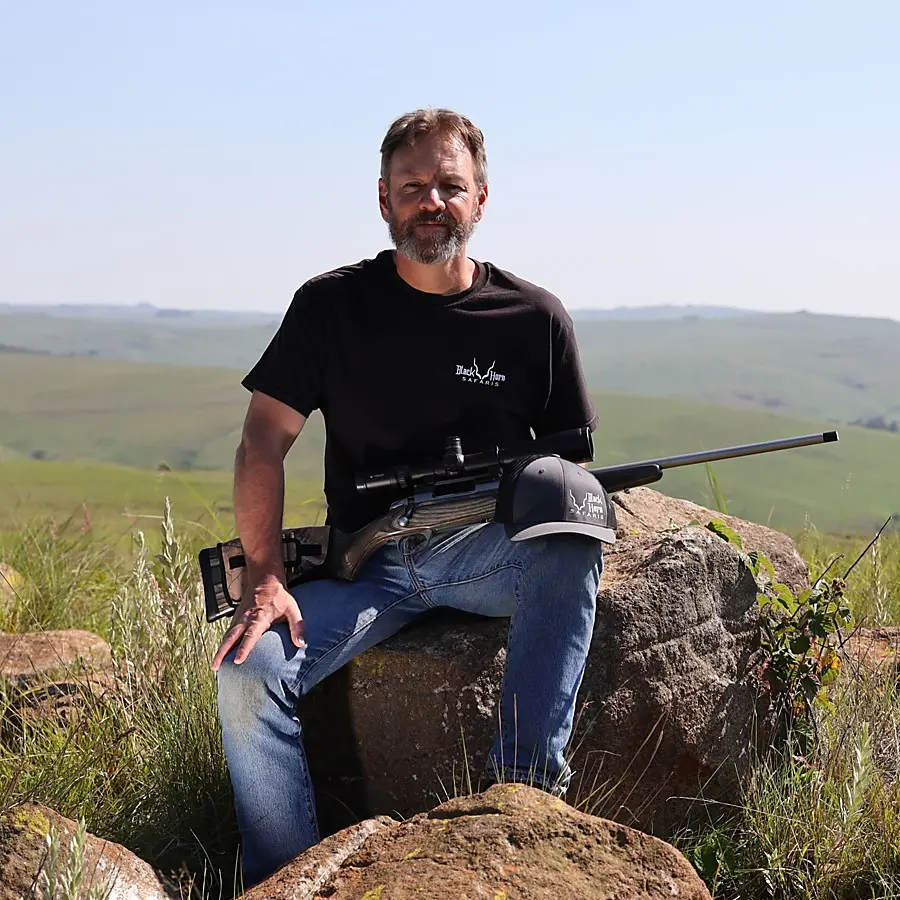 Adrian Anderson first obtained his Professional Hunters license in 1991. He is a Big Five and Dangerous Game licensed Professional Hunter and Hunting Outfitter. He has a tremendous love for wildlife and the African bush and enjoys sharing his knowledge with the hunting clients that he guides. Guiding hunters in Africa's wild places is a passion and seeing them succeed with their goals brings satisfaction. With knowledge of the Safari industry built up over 32 years he is well qualified to give guidance to his hunting clients.