Prices and Costs of a South African Hunting Safari for 2023
Looking for Hunting prices in Limpopo or South Africa? South Africa is one of the best places in the world to go on an African trip. With a diverse range of wildlife and landscapes, it offers an unforgettable experience. However, planning and budgeting for your hunts can be tough to do, especially for the first-time hunter. On this page we will try to guide you and provide you with all the information and prices needed to plan and budget for a African Safari, including costs, factors that influence costs, and a few tips for working out the final price you will pay.
DAILY RATES 2023 HUNTING SEASON 
Big 5 / Dangerous Game Hunting
Daily Rate Includes
Guide Fees

Licenses

Meals

Accommodation

Soft drinks

limited Beer and Wine

Field preparation of trophies

Road transportation from Johannesburg International Airport
 Daily Rate Excludes
Airfare

Taxidermy

Gratuities

Items of a personal nature

VAT at 15%

Safari Insurance

CITIES Permits

RIFLE HIRE
Rifle hire per rifle per hunting days $ 40.00 plus $ 2.50 per round of ammunition used.
Here you will find the Safari costs for both day costs and hunting / animal cost for the season. All costs in the hunt in Africa prices are per person / hunter per day and apply for the entire duration of the hunt. In other words if you are on a big five hunt ($ 450 – $550), such as a hunt for Buffalo and shoot your trophy Buffalo in the first few days and start pursuing other game, the rate does not change. The rates remains the same for the entire duration of the trip and does not revert to the previous daily rate. 
The hunt in Africa prices are quoted in U.S. $ and are subject to change without notice due to currency fluctuations. This Price List contains most of the most commonly targeted trophies in Africa that we offer but does not include every trophy species that we have available. If there are any trophy animal species that you would like to hunt but do not see on the Price list please contact us to find out if we have those animals available. In most cases we will be able to offer any animal species you may be looking for.
DAILY RATES ARE PER HUNTER PER DAY AND APPLICABLE FOR THE ENTIRE DURATION OF THE HUNT
ALL COSTS QUOTED IN U.S. $
PRICES EXCLUDE VAT (VALUE ADDED TAX AS REQUIRED BY SA GOVERNMENT) AT 15%
TROPHY FEES PRICE LIST FOR HUNTING SEASON 2023
Other Big 5 Species available on request. 
PLAINS GAME SAFARI HUNTING COST
Sable Antelope 38-41″ $5 500.00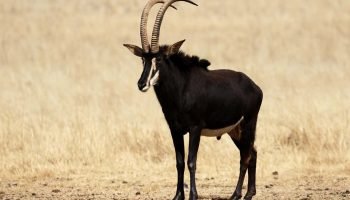 Sable Antelope >41″ $6 500.00
WHITE SPRINGBUCK $1 550.00
BLACK SPRINGBUCK  $1 550.00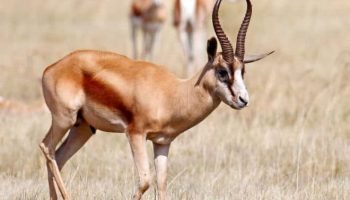 COPPER SPRINGBUCK $1 950.00
Introduction to African Safari
Safaris in Africa are a popular activity for traveling hunters from around the world. Africa offers a diverse range of landscapes and wildlife, making it the perfect destination for hunting enthusiasts. From big game trips to bird shooting, South Africa has something for everyone. In this section, we'll give you an overview of what to expect from a hunt.
What to Expect from your South Africa Hunting Safari?
Africa is home to a wide range of animals, including the Big Five (lion, leopard, elephant, rhino, and buffalo) as well as a variety of antelope, birds, and smaller game. Hunts in Southern Africa can be tailored to your preferences and the price you would be willing to pay, whether you're interested in big game, bow hunting, plains game hunting or bird shooting. The season in Africa varies depending on the type of game you're interested in pursuing, but the best time to go on a hunt is usually from April to September. In this section, we'll provide you with more information about what to expect from a hunt in South Africa.
Factors that Influence Africa Hunting Fee
The cost of hunting in Africa can vary greatly depending on a number of factors, including the type of game you're interested in targeting, the duration of your trip, the accommodation and amenities you choose, and the level of service you require. In this section, we will discuss the key factors that influence a South African hunt cost.
Average South African Safari Price
South African hunting prices can range from a few thousand dollars to tens of thousands of dollars, depending on the factors discussed in the previous section. On average, a 7-10 day trip can cost anywhere from $3,000 to $10,000, with additional costs for animals and other services. In this section, we'll break down the average costs based on the different factors that influence the price.
Tips for Planning and Budgeting for your Hunting Safari 
Planning and budgeting for a South African safari can be overwhelming, especially if it's your first time. However, with some careful planning and budgeting, you can ensure that you have a successful and enjoyable hunting experience. In this section, we'll provide you with some tips and advice on how to plan and budget for your hunting.
Research different outfitters and compare their prices, packages, and services. Look for reviews and testimonials from previous clients to get an idea of their reputation and quality of service.
Choose the Right Time of Year to Hunt in Africa:
The hunting season in South Africa varies depending on the type of game you're interested in collecting. Choose the right time of year for the type of game you want to hunt to ensure the best experience.
Determine Your Hunting Goals:
Determine what type of game you want to hunt and set realistic goals. A dangerous game hunt is often better left for the next time around, plains game hunting packages are best for the first time African hunting. This will help you choose the right hunting package and avoid overspending on unnecessary extras.
Consider a Hunt Package:
A hunt package can be more cost-effective than solo packages. Consider sharing your hunting adventures with friends or your son, father and son hunting packages are a great way to reduce the fee per hunter. While hunting packages can be shared among two hunters be aware that the package does not usually include the rates for the second hunter.
Budget for Extra Fees:
Be aware of additional fees that may apply, such as trophy price, gratuities to staff, transport, and accommodation fees. Budget for these additional fees to avoid any unexpected expenses.
Conclusion
In conclusion, hunting trips offer an unforgettable experience for enthusiasts. However, planning and budgeting for hunts can be overwhelming. By researching and comparing outfitters, choosing the right time of year, setting realistic hunting goals, considering  hunt packages, and budgeting for extra costs, you can ensure that you have a successful and enjoyable Africa hunt.
PRICES ARE SUBJECT TO CHANGE WITHOUT NOTICE DUE TO CURRENCY FLUCTUATIONS 
WE REQUIRE A $ 2 500.00 DEPOSIT TO SECURE YOUR PLAINES GAME BOOKING 
A DEPOSIT OF $ 3 000.00 IS REQUIRED TO SECURE ALL PACKAGE BOOKINGS 
WE REQUIRE A 50% DEPOSIT TO SECURE YOUR BIG 5 BOOKING
BALANCE OF DAY FEES ARE PAYABLE ON ARRIVAL
BALANCE OF TROPHY FEES ARE PAYABLE IN FULL ON COMPLETION OF YOUR HUNT
WOUNDED AND LOST ANIMALS ARE PAYABLE IN FULL
ACCEPTED METHODS OF PAYMENT ARE CASH OR CREDIT CARD
THE LAST DAY OF YOUR BOOKING IS CONSIDERED A NON HUNTING/TRAVEL DAY
FAQ's Frequently Asked Questions
How is the cost of  an African hunting package determined?
Day fees are multiplied by the number of days in camp and then added to the animal prices included in the package for a total cost. Most of these plains game packages are then discounted for a final price to the consumer, making for affordable hunting.
What is the cost of Buffalo Packages?
The cost is $ 13 350 if you will be hunting 2 on 1 , ie. will share the services of the guide with somebody else, or $ 14 000 if you will have the services of the guide to your self.
What do Packages Include?
They normally include day fees, the services of a guide, transportation in the concession area, accommodation, meals and drinks as well as the mentioned animals.
What is the Success Rate?
We have an average success rate of 98%.
Are Permit Fees Included?
Permit fees are generally included in the prices, note we specifically exclude CITES permits which may be needed to import certain trophies into the country where you live.