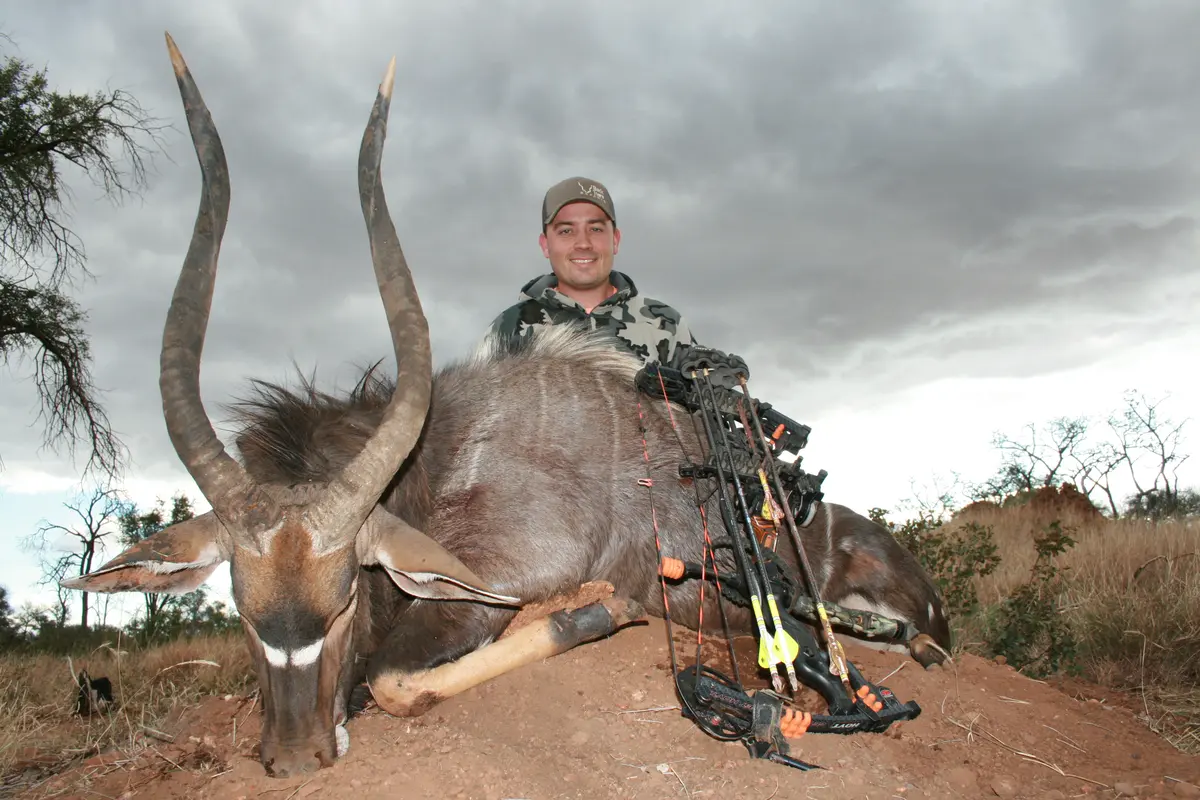 Bow hunting is a thrilling and challenging sport that attracts hunters from all over the world. One of the most sought-after species for bow hunting enthusiasts is the majestic Nyala, a medium sized antelope native to Southern Africa. With its stunning appearance and elusive behavior, the Nyala provides a unique hunting experience that is truly unforgettable. In this article, we will explore the various factors that influence the price of a Nyala bow hunt in South Africa.
What is the price in South Africa to Bow Hunt a Nyala?
The price in South Africa to bow hunt Nyala or trophy fee is $ 2 200.
Nyala up to 27 inches $ 2 200
Nyala over inches $ 2 700
This is the trophy fee for the animal. To this you still need to add the day fees for the hunt.
Contact us for any additional information.
Daily Rates to Hunt Nyala
If you hunt 1 X 1 in other words you have the services of a guide to yourself and do not share the animals and opportunities with anyone else the price is $ 450 per day.
If you hunt 2 X 1 in other words you share the hunt and opportunities with a friend – wife – son the price is $ 350 per day for each hunter.
2 X 1 $ 350 per person per day – 1 X 1 450 per person per day.
So the final inclusive price for the plains game bow hunt will be number of days x the day fee plus the trophy fee.
7 days X $ 350 = $ 2 450 + Trophy fee $ 2 200 for a Total Cost of $ 4 650
What is included in the day fees?
Daily Rate Includes
Guide Fees
Licenses
Meals
Accommodation
Soft drinks
limited Beer and Wine
Field preparation of trophies and transporting them to the Taxidermist
Road transportation from Johannesburg International Airport
What is not included in the day fee?
Daily Rate Excludes
Airfare or flight
Taxidermy and dip and pack
Gratuities
Items of a personal nature
VAT on day fees at 15%
Safari Insurance
CITIES Permits
Rifle Hire
What is the cost of a bow Hunt Package that includes a Trophy Nyala?
The price of a bow hunting Package with a trophy Nyala is $ 7 800.
$ 7 800 for the Silver Package. This package includes 7 hunting days, 5 plains game Animals – Blue Wildebeest, Nyala, Blesbuck, Impala, and Warthog. It also includes Accommodation, meals and soft drinks, the services of a professional hunting guide, the skinning and field preparation of your trophy animals and road transportation to and from Johannesburg International airport.
Please note: This price is for hunting 2 X 1. If hunting 1 X 1 the cost is $ 8 500. This is an all-inclusive price.
To embark on an unforgettable South African bowhunting experience for Nyala, it's crucial to select the right safari package. Several factors influence the cost, including the duration of the hunt, the number of animals included, and the quality of accommodations. Generally, packages range from basic options to luxurious experiences, catering to different preferences and budgets. You might also like to consider the Spiral Horn Slam package which also include Eland, Kudu and Bushbuck, take a look at the 2023 and 2024 price list for more details. You will have the choice to either stalk the animals or hunt from a blind.
Factors Affecting the Price of a South African Hunting Safari
Location:
The price of hunting in Southern Africa can vary depending on the location of the hunting concession. Certain regions, such as the Limpopo Province and KwaZulu-Natal, are known for their dense populations of Nyala.
Hunting Package:
Different hunting outfitters offer various packages that include different services and amenities. These packages can range from basic hunting lodge accommodations and meals to luxurious lodging and specialized guides. The more comprehensive the package, the higher the price is likely to be.
Trophy Fee
The safari package will include the trophy fee for harvesting a Nyala. The trophy fee is typically based on the size and quality of the animal taken. Larger and more impressive Nyala specimens will command higher fees.
Duration of the Hunt:
The duration of the hunt can also influence the price. Some outfitters offer shorter hunting trips lasting a few days, while others provide longer expeditions that can span over a week. The longer the hunt, the higher the overall cost may be, considering additional expenses such as accommodations and meals.
Transportation:
Hunters traveling to South Africa for a hunt must also factor in the cost of transportation. This includes flights to and from the country, as well as transport to the hunting area. Some outfitters may offer transportation services as part of their packages, while others may require hunters to make their own travel arrangements.
Additional Costs:
It is important to consider any additional costs that may be associated with an Africa hunt. These can include hunting permits, government taxes such as VAT, taxidermy services, and shipping fees for transporting animals back home. It is advisable to inquire about these costs upfront to avoid any surprises later on.
Average Price Range
The price to hunt in Southern Africa can vary significantly depending on the factors mentioned above. On average, hunters can expect to pay anywhere from $2,200 to $8,500 for a Nyala bow hunt. This price range includes the safari package, animal fee, accommodation and basic transportation costs.
It is essential to research and compare different outfitter's to find the best value for your budget. Cheaper options may not offer the same level of services or animal quality, while more expensive companies may provide a more luxurious experience with higher chances of harvesting a worthy animal.
Tips for Choosing an Outfitter for Bow Hunting Nyala
When considering a Safari hunt in South Africa, here are some tips to help you make an informed decision:
Bow Hunting Outfitter:
Some outfitters specialize in bow hunting, while others offer this type of hunting as a side line and do not really have suitable blinds and well trained professional hunters that specialize in this facet.
Look for reviews and testimonials from previous clients to gain insights into their experiences. Positive reviews and satisfied customers are indicators of a reputable company.
Ask for References:
Request references from the booking agent and contact them to gather first-hand information about their satisfaction level, the quality of the hunt, and any additional costs they may have incurred.
Inquire about Success Rates:
Ask about the success rates in harvesting Nyala with a bow. High success rates demonstrate the expertise and knowledge of the guides, increasing your chances of a successful hunt.
Consider Accommodation and Meals:
If you have specific preferences or requirements for accommodations and meals, make sure to inquire about these aspects before booking. Some outfitters offer luxurious lodges with gourmet meals, while others provide more basic accommodations.
Discuss the Proficiency of the Guides:
Guides that specialize in bowhunting ensures personalized attention and guidance during the hunt. If the guides are bow hunters themselves they will have a better understanding of what is involved, this will ensure a quality experience.
Clarify Cancellation and Refund Policies:
Unforeseen circumstances may arise, leading to the need for cancellation or rescheduling. It is crucial to understand the booking agents cancellation and refund policies to avoid any financial losses.
Conclusion
A Bow hunting Safari for Nyala is an exhilarating adventure that offers a unique experience for enthusiasts. However, it is essential to consider various factors that influence the price, such as location, safari package, animal fees, duration of the hunt, transportation, and additional costs. Consider adding some additional animals to your plains game hunt like Kudu, Sable, Roan, Eland, Mountain Reedbuck and Cape Buffalo. By researching and comparing different companies, reading reviews, and asking for references, you can select the best Safari company that suits your budget and preferences guaranteeing a top notch African hunting safari. Happy hunting!
FAQ's Frequently Asked Questions
What factors affect the price of bow hunting?
The price can vary based on the location of the hunting concession, package, animal fee, duration of the hunt, transportation costs, and additional expenses.
Why does the location of the hunting concession influence the price?
Certain regions in South Africa, such as the Limpopo Province and KwaZulu-Natal, have higher populations of Nyala, increasing the chances of success and therefore commanding higher prices.
What is the fee for the trophy and how does it affect the price?
The fee for the trophy is the cost of harvesting a Nyala and is based on the size and quality of the animal. Larger and more impressive specimens will have higher fees, adding to the overall price.
What are some additional costs to consider for a hunt?
Additional costs may include hunting permits, government taxes, taxidermy services, and shipping fees for transporting animals back home. It is important to inquire about these costs upfront to avoid any surprises later.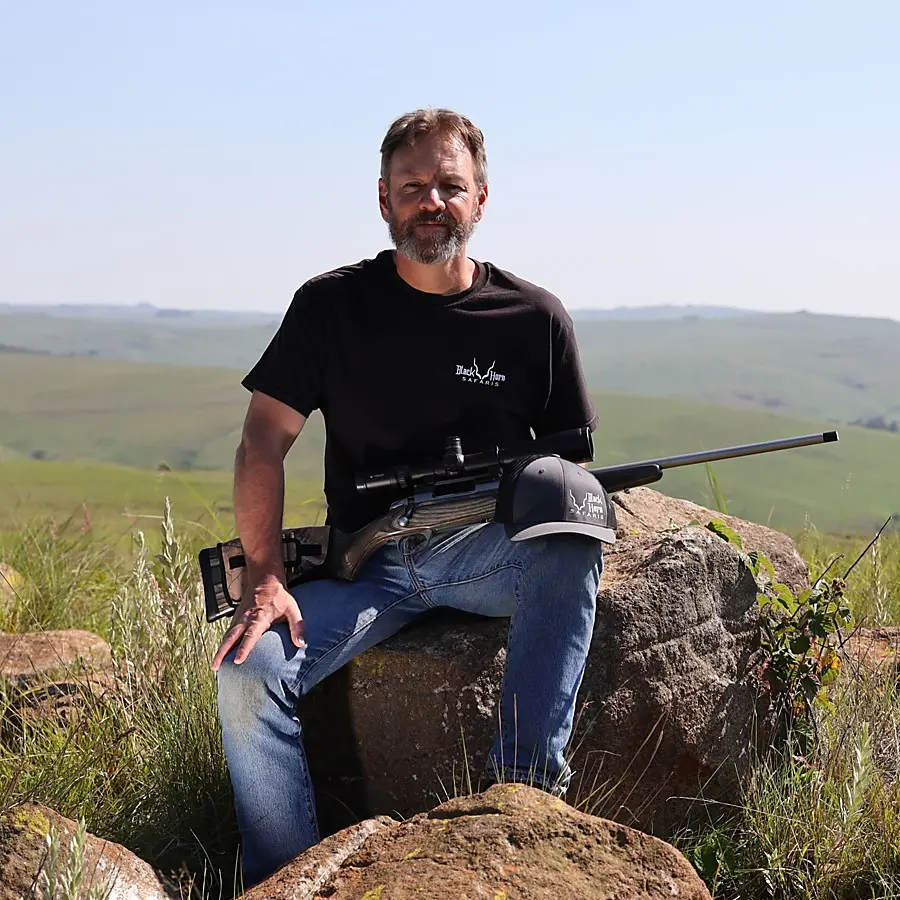 Adrian Anderson first obtained his Professional Hunters license in 1991. He is a Big Five and Dangerous Game licensed Professional Hunter and Hunting Outfitter. He has a tremendous love for wildlife and the African bush and enjoys sharing his knowledge with the hunting clients that he guides. Guiding hunters in Africa's wild places is a passion and seeing them succeed with their goals brings satisfaction. With knowledge of the Safari industry built up over 32 years he is well qualified to give guidance to his hunting clients.