A Safari in Africa is an experience like no other. The thrill of stalking magnificent African game animals in their natural habitat is unparalleled. In this comprehensive guide, we cover all you need to know about hunting safaris, from the best areas and times to go, to the cost and what to pack. Read on to ensure your safari adventure is a memorable one.
What is an African hunting safari?
An African hunting safari is a guided hunting trip that takes place in various areas of South Africa and other countries in Southern Africa. It provides hunters with the opportunity to hunt a wide variety of game species including dangerous game and plains game in their natural habitat.
Customized Hunting Packages
Our Packages are all fully customizable with regards to the duration, hunting method and animals for an African experience like nothing else available. Choose how long you would like to spend hunting in South Africa, your main target species and your preferred method – we will let you have a custom quotation for the ultimate African Safari.
Big Five Hunting Safari:
The dangerous game, consisting of Lion, Leopard, Elephant, Hippo, Crocodile, and Cape Buffalo, are the most sought-after trophies. These magnificent animals require specific permits and professional guides to ensure a safe and legal hunting experience. It is important to note that hunting the Big Five is highly regulated and strictly controlled to ensure the conservation of these iconic species.
For experienced hunters seeking an Africa hunting experience of a lifetime, these safaris offer the chance to hunt Africa's most formidable animals with our highly experienced professional hunters.
Dangerous Game Hunt Packages
Cape Buffalo: Starting at $9,500.
Choose a Cape buffalo bull based on size.
Cape Buffalo Package
Price $ 13 350 for 2 X 1 or 1 X 1 $ 14 000
Prices are per package /person
7 Days Hunting
1 Cape Buffalo 37 – 40 Inches
Cape Buffalo & Sable Package
Price $ 18 550 for 2 X 1 & 1 X 1 $ 19 250
Prices are per package /person
7 Days Hunting
2 Game Species
Cape Buffalo & Sable of 37 – 40 inches
African Lion Hunts
Starting from $ 8,500
Select an African lion based on category
Observers at $250 per day
7 hunting days with road transportation included
Plains Game Hunting in South Africa:
South Africa's diverse wildlife includes an array of plains game species such as Impala, Kudu, Zebra, Sable, Wildebeest, Nyala and Waterbuck. These animals offer thrilling big game hunting opportunities while supporting sustainable conservation efforts. Plains animals can be pursued in various regions. South African hunting offers a unique landscapes and species diversity. A plains game safari targets the more abundant game species found across Southern Africa's diverse landscapes. Plains game safaris are typically more accessible and affordable than glamorous game safaris, making them a popular choice for both novice and experienced hunters. Also available in a package.
Plains Game Hunting Packages
All South African packages are available for either or bow and rifle hunting.
Included in our African inclusive Hunting & Packages
– Accommodation in our hunting lodge or camps, meals and drinks
– The Services of a Professional hunting Guide
– Daily rates and trophy fees
– Skinning/Field preparation of animals and delivery to the taxidermist
– Transportation to and from Johannesburg OR Tambo International Airport
First Time African Hunting Safari
Price $ 4 350 for 2 X 1 & 1 X 1 $ 5 050
Prices are per package /person
7 Days Hunting
3 Game Species.
Animals: – Blesbok, Impala & Warthog
Classic Safari Hunting Package
Price $ 5 550 for 2 X 1 & 1 X 1 $ 6 250
Prices are per package /person
7 Days Hunting
4 Game Species.
Animals: – Wildebeest, Blesbok, Impala & Warthog
Bronze Hunting Package
Price $ 6 300 for 2 X 1 & 1 X 1 $ 7 000
Prices are per package /person
7 Days Hunting
4 Game Species.
Animals: – Wildebeest, Zebra, Impala & Warthog
Silver Package Hunt
Price $ 7 800 for 2 X 1 & 1 X 1 $ 8 500
Prices are per package /person
7 Days Hunting
5 Game Species.
Animals: – Wildebeest, Nyala, Blesbok, Impala & Warthog
Gold Package Hunt
Price $ 10 350 for 2 X 1 & 1 X 1 $ 11 000
Prices are per package /person
7 Days Hunting
5 Game Species.
Animals: – Kudu, Nyala, Gemsbuck, Impala & Warthog
Best Areas for Hunting Trips in South Africa
Africa is a vast continent, and each country offers unique opportunities for the hunter. Some of the top destinations for a quality hunting adventure in Africa are South Africa, Zimbabwe and Namibia:
Hunt in South Africa: Known for its diverse wildlife and picturesque landscapes, South Africa offers a variety of opportunities. The Eastern Cape, Limpopo, and Mpumalanga provinces are particularly popular for their abundance of game species.
Limpopo Province:
Located in the northern part of South Africa, Limpopo Province is renowned for its vast hunting areas and diverse wildlife. The province is home to numerous private game reserves and outfitters, providing excellent hunting opportunities for both Big Five and plains game animals. The landscape of Limpopo ranges from open savannas to dense bushveld, offering a variety of hunting scenarios.
Eastern Cape:
The Eastern Cape is a popular hunting destination due to its stunning scenery, abundant wildlife, and well-managed hunting reserves. This region is particularly known for its abundant game species, including kudus, impalas, and blue wildebeests. This part of the country also offers a combination of rugged terrain and breathtaking views, making it an ideal location for memorable experiences.
Best Time to Go Hunting in Africa
The ideal time to go to Africa varies depending on the region and the game species you're targeting. However, the general rule is that the dry season is the best time to go on safari, as animals congregate around water sources and the vegetation is sparse, making it easier to spot and track them.
South Africa: The dry season runs from May to September, with the cooler winter months of June to August being the most popular for trophy hunting.
Hunting Outfitters
Safari hunting companies are professional organizations that facilitate and manage hunting trips to Africa, offering sportsmen and women the opportunity to experience the thrill of a hunting safari in South Africa in a safe, responsible, and ethical manner. These companies cater to a niche market of trophy hunters who seek a once-in-a-lifetime adventure.
The Role of Outfitters
A hunting outfitter's primary function is to organize and coordinate all aspects of trips, from accommodation and transportation to licenses and an experienced Professional Guides.
By working closely with local communities, governments, and wildlife authorities, they ensure that activities are conducted on a fair chase hunting basis and within the confines of the law. The company that you choose will have a big impact on the success of your adventure and so it is advisable to choose carefully.
African Hunting Lodge
An African lodge is a facility that provides accommodation and amenities for guests who participate in African Safaris. These lodges are usually located in or near wildlife reserves or private game concessions, offering guests access to a variety of game species in a controlled and sustainable environment.
The African Safari style lodge will typically provide:
Comfortable accommodations: The camp offers a range of accommodations, from basic tented camps to luxurious, fully-serviced with en-suite bathrooms, air conditioning, a fully stocked bar and other modern amenities.
Professional Guides: Experienced guides or PHs help plan and execute the experience, ensuring guest safety and adherence to hunting regulations.
Game tracking and hunting support: They will often provide vehicles, trackers, and equipment for guests, making the hunting experience seamless and enjoyable South African hunting.
Meals and refreshments: The lodge provide full-board catering, which includes breakfast, lunch and dinner in the dining area. They also offer a selection of beverages, including alcoholic drinks.
South Africa – Types of Trophy Hunting
There are a number of different types of trips that can be booked in South Africa to suit the requirements and preferences of any travelling hunter. The options to choose from include the type of species you would like to hunt, Dangerous game such as Cape Buffalo, or African plains game. The hunter will have choices when it comes to duration of the Safari that will vary from five to 21 days. Often these trips will require a minimum of seven to ten or maybe even fourteen days in order to have a reasonable chance of success. Successful African plains game hunting by comparison can be achieved in a shorter time frame and trips will generally vary between five to ten days, depending on the number and scarcity of the trophies in the area.
The Hunt can also be chosen by the method that the hunter would like to employ to hunt his chosen quarry. The choices are between, spot and stalk, walk and stalk hunting, long range rifle, black powder, hand gun and archery hunting. Bow hunting can again be broken down into shooting with modern compound bow or choosing to hunt with traditional equipment. Archery hunting is often done by sitting in a bow blind and if your choice is to hunt with traditional archery equipment, the ceiling of the blind needs to be tall enough to allow the hunter to draw back and release an arrow from the confined space.
The area in South Africa that the hunt will be booked in needs to be chosen with care as not all concessions cater to all of the various available options. Some safari companies specialize in the particular type of hunting that you may be interested in, and it would be advisable to book with the experts in style of safari that you would prefer.
Long range hunting is not a viable option if you choose an area that has predominantly the thick bushveld region, where shooting distances will be much shorter. When booking a long range rifle trip you should look into areas in the Eastern Cape, Northern Cape or Orange Free State as these provinces generally have more open country where long range shooting will be possible.
Black powder and handgun hunting both require shot opportunities at shorter ranges. The preference would be towards hunting areas with much thicker bush where hunters can stalk on foot to within close proximity of the animal. Shorter shooting distances will lead to higher percentage of success.
If certain species of game quality are high up on your shopping list the hunter will need to communicate with Black Horn Safaris to find out if these hunting experiences are available in the hunting concessions. Not all game species are commonly prevalent in the different provinces. Some areas might also produce inferior trophy quality. South Africa as a hunting destination can offer all of these methods and most of the sought game after in Africa.
Bow Hunting vs Rifle Hunting
Bow hunting is a challenging and rewarding alternative to regular hunting. It requires exceptional skill, patience, and precision. Many African destinations cater to bow hunters, offering experienced guides and tailored hunting packages at an affordable price.
Popular Trophy Animals to Hunt
In addition to the "Big Five" and plains game species, Africa boasts an array of other sought-after animals, including:
Sable Antelope: Known for its majestic horns, the Sable Antelope is a prized trophy for many hunters.
Greater Kudu: With their impressive spiral horns, Trophy Kudu are considered one of Africa's most iconic antelope species and a priority on a trip.
Gemsbok: This striking antelope, with its long, straight horns and distinctive markings, the Gemsbuck is a popular animal across southern Africa.
Buffalo: Often referred to as "Africa's Black Death," the Cape Buffalo is a dangerous and highly sought-after trophy.
Red Hartebeest: Make striking and unusual wall mounts.
Blue Wildebeest and Black Wildebeest.
Wing-Shooting
Wing Shooting Packages for waterfowl, Land birds like Guinea fowl and Francolin, and Doves and Pigeon are also available.
Rates start from $ 350 per shooter per night. Gun hire and ammunition are available.
FAQ's Frequently Asked Questions
Where are the best hunting areas in South Africa?
The best areas for hunting in South Africa are spread across different provinces, including the Bushveld region, and other densely wooded areas. These regions offer diverse species and excellent opportunities for hunting safaris.
What can I expect from a trip in Africa?
A trip to Africa offers an unmatched experience. With experienced professional guides, you can expect the thrill of getting close on foot, spotting various species of game, and making memorable shots. It is an adventure safari that combines hunting with a chance to explore the beauty of Africa.
Are the hunting packages inclusive?
Yes, most hunting packages include all costs, which means they include full board lodging, meals, transportation, the services of a professional guide, and animal fees. This ensures that hunters have a hassle-free experience and can focus on enjoying their trip.
What type of game can I harvest in Africa?
In Africa you can harvest a variety of game species to hunt, including popular ones like impala, kudu, blue wildebeest, and sable. Different hunting areas across South Africa provide opportunities for hunting plains animals as well as big 5 if you are interested in a more challenging experience.
Can I go for an Archery safari in Africa?
Yes, archery hunting is possible in Africa. Many outfitters offer archery packages, and experienced professional guides can guide you to suitable areas for archery hunting. It is a unique and thrilling way to experience a safari adventure in Africa.
How do I choose a reputable outfitter?
When choosing an outfitter for your African safari, it is important to consider their reputation, experience level, and the reviews from past clients. Look for outfitters who are registered and certified, and have a proven track record of providing quality safaris.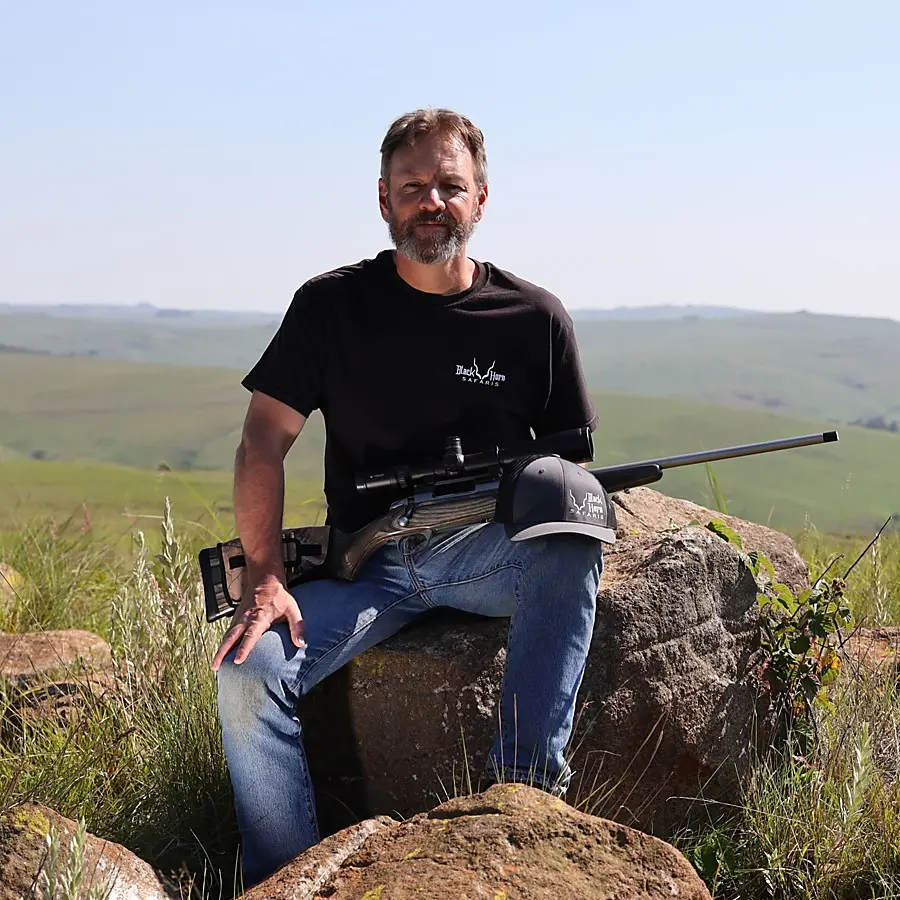 Adrian Anderson first obtained his Professional Hunters license in 1991. He is a Big Five and Dangerous Game licensed Professional Hunter and Hunting Outfitter. He has a tremendous love for wildlife and the African bush and enjoys sharing his knowledge with the hunting clients that he guides. Guiding hunters in Africa's wild places is a passion and seeing them succeed with their goals brings satisfaction. With knowledge of the Safari industry built up over 32 years he is well qualified to give guidance to his hunting clients.