Have you ever dreamed of traveling to the African continent and experiencing something truly amazing? A hunt in South Africa is an incredible adventure that allows you to witness some of the most spectacular wildlife the world has to offer. Whether you're a seasoned hunter looking for a new challenge or a novice wanting to learn more about the sport, South Africa's plains game is sure to provide an unforgettable experience.
A Plains game Safari offers a unique chance to explore nature at its finest. From tracking wild animals across vast open plains, to getting up close and personal with majestic wildlife, it's an opportunity like no other. You can choose from a variety of species such as kudu, impala, wildebeest, and more – all waiting for your perfect shot. With experienced professional guides on hand at all times, safety is always assured while you pursue thrilling adventures in the bushveld.
The absolute variety and profusion of species in Africa make it a top choice for visiting hunters from all corners of the world. In fact more hunters travel to South Africa for the myriad of antelope species than any other global destination. The number of hunters travelling to Africa for dangerous game pales into insignificance in comparison.
African plains game hunting is the practice of pursuing antelope species and other animals in their natural habitat. A Safari, where the landscape is made up of vast open grasslands, savannahs and bushveld is what the plains game experience is about. The tracking of plains game has become popular among hunters from all over the world seeking a unique Safari experience. Dangerous game such as Cape Buffalo, Lion, Leopard and Elephant are not considered plains game animals.
Popular plains game include antelope species such as Kudu, Impala, Blesbok, Springbok, Tsessebe, Blue Wildebeest, Zebra and many more. The safari can be done either on foot or from a vehicle depending on the terrain and the preference of the hunter.
Successful plains game hunts take patience, skill and an understanding of animal behavior. Experienced Professional Hunters are often employed to provide expert advice on when and how to shoot an animal in order to reduce wounding losses and ensure that only mature trophy animals are hunted. Ultimately, a successful plains game hunt is one where fair chase has taken place and the animal has been taken with a quick clean kill shot.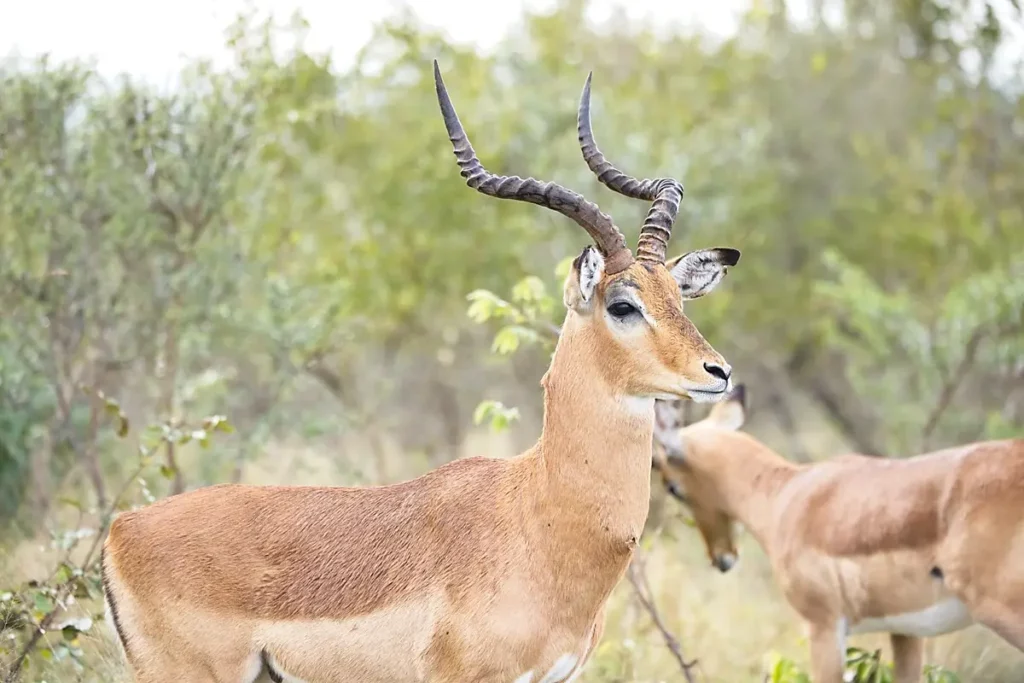 What are plains game species?
Plains Game is the general term given to the abundant Antelope species of Southern Africa and include everything from the pigmy Antelopes such as the tiny Dik Dik and Suni up to the sturdy Eland weighing up to an impressive 2 100 lbs.
Plaines game species include some of the most sought after trophies that are on every visiting hunters list. Popular species that visiting hunters should consider include Kudu, Sable Antelope, Blue Wildebeest, Zebra, Impala and Warthog. These species are abundant in the bushveld regions and are often included in packages available to visiting trophy hunters.
What do Plains Game Hunts Cost?
A common myth or perception is that a safari in South Africa is an expense that only the wealthiest hunters can afford. Nothing could be further from the truth. The cost of a seven day plains game antelope trip including 5 plains game trophy animals would set you back substantially less than a guided elk hunt in the American West.
First Time Hunting Safari Package
Price $4 350 for 2 X 1 & 1 X 1 $ 5 050
Prices are per package /person
7 Days Hunting
3 Game Species Animals – Blesbok, Impala & Warthog
Accommodation & Meals
Classic Safari Hunting Package
Price $5 550 for 2 X 1 & 1 X 1 $ 6 250
Prices are per package /person
7 Days Hunting
4 Game Species Animals – Wildebeest, Blesbok, Impala & Warthog
Accommodation & Meals
Bronze Hunting Package
Price $6 300 for 2 X 1 & 1 X 1 $ 7 000
Prices are per package /person
7 Days Hunting
4 Game Species Animals – Blue Wildebeest, Zebra, Impala & Warthog
Accommodation & Meals
Silver Package Hunt
Price $7 800 for 2 X 1 & 1 X 1 $ 8 500
Prices are per package /person
7 Days Hunting
5 Game Species Animals – Wildebeest, Nyala, Blesbok, Impala & Warthog
Accommodation & Meals
Gold Package Hunt
Price $10 350 for 2 X 1 & 1 X 1 $ 11 000
Prices are per package /person
7 Days Hunting
5 Game Species Animals – Kudu, Nyala, Gemsbuck, Impala & Warthog
Accommodation & Meals
The cost of African plains game can vary greatly depending on the game desired and the outfitter chosen. Generally, a South African hunting safari start at around $4,500 USD for a seven-day hunt including trophy fees, with the price increasing depending on species hunted and accommodations offered.
When selecting an outfitter for a plains game hunt one should research their reputation by reading reviews from previous clients. The quality of the experience will be greatly influenced by the expertise of the guide and staff provided by the outfitter. It is important to choose a reputable company that will provide excellent service at a reasonable price.
Popular Locations for African Plains Game Hunting
South Africa is a popular destination for plains game and there are plenty of places to explore. Many hunters flock to Africa because of its wide array of wildlife, diverse landscapes, and welcoming culture. Whether you're looking for a day safari or a multi-day excursion, there is something for everyone. Here are some of the top spots for African plains game:
The Limpopo Province has long been known as one of the best places for plains game. It's home to several national parks and reserves, such as The Kruger National Park, that offer excellent big game opportunities such as Gemsbok (Oryx), Eland and Kudu. The landscape here varies from rolling hills to rugged mountainscapes that provide plenty of cover and concealment for hunters.
The Eastern Cape is home to some of the best African plains game. This region features an abundance of wildlife such as zebra, kudu, blue wildebeest, impala and warthog. The diverse terrain includes open grasslands, mountains and bushveld that make it ideal for tracking down game. In addition to great opportunities, the Eastern Cape also offers stunning landscapes and a rich cultural heritage that makes it an unforgettable experience.
KwaZulu-Natal is renowned for its stunning scenery, vibrant culture and abundant wildlife. Game species that can be hunted here include Sable Antelope, Mountain Reedbuck and Nyala among others. Hunters will find everything from rolling hills to dense bushveld which provides excellent hiding spots for animals making them easier to track down. KwaZulu-Natal also boasts some fantastic lodges where hunters can rest after a successful safari or take part in other activities such as bird watching or fishing in between safaris.
African plains hunting is an unforgettable experience with plenty of options available depending on what kind of adventure you're looking for. Whether you're after big game or small antelope, South Africa has something special waiting just around the corner!
Types of Animals Hunted on The Plains In South Africa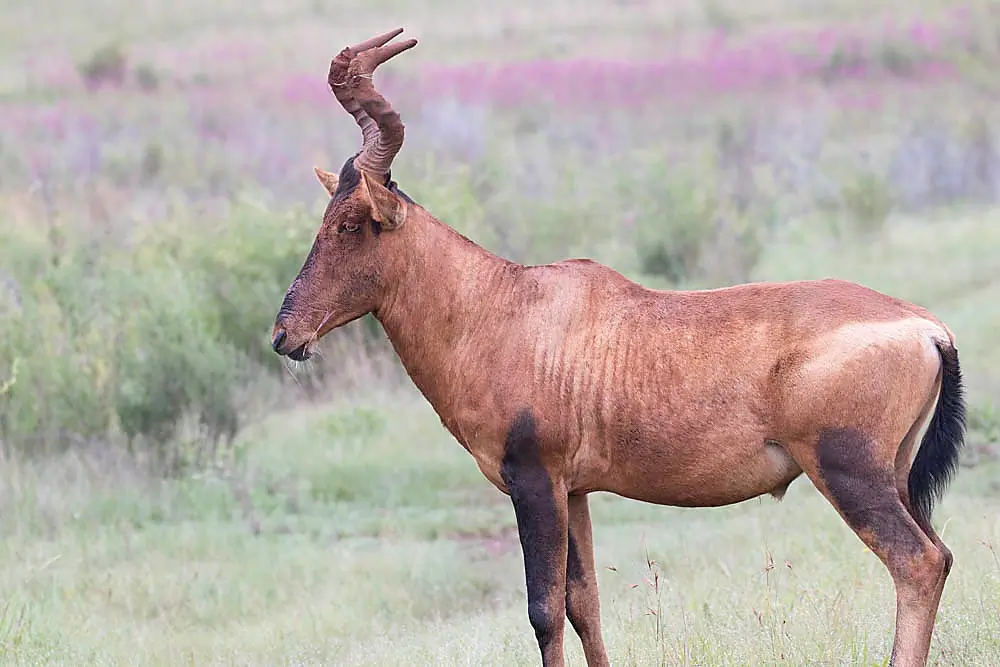 Where to find plains game.
Plains game species are found in a variety of different geographical areas in South Africa. Their habitat, topographical and ecological requirements vary as does their dependency on water and vegetation. Plains game hunting packages such as Red Hartebeest, Blesbuck, Springbuck and Black Wildebeest are often found in open grassland habitat. Species such as Kudu, Blue Wildebeest, Impala, Nyala and Waterbuck prefer dense bushveld and riverine forests. Certain species of African plains game have a distinct preference for mountainous regions with highly variable topography. These include Klipspringer, Mountain Reedbuck and Vaal or Grey Rhebuck.
Booking a Plains Game Hunting Package
Now that you are ready to book your plains game hunting packages, the next step is to make contact with an outfitter. The outfitter will be able to provide all of the relevant information on your trip. The best way to do this is by working with an outfitter who specializes in plains game. An outfitter will provide you with all the necessary information and help you choose the right destination, as well as provide you with accommodations and equipment.
When booking a plains game trip, it's important to consider the season and location of the safari. Additionally, some areas offer better opportunities for certain animals than others. A good outfitter can help guide you through these decisions so that you get the most out of your safaris and to figure out the best time for your safari.
Finally, make sure to check any necessary regulations before booking your trip. Depending on where you're going, there may be restrictions on which species can be hunted, when they can be hunted, and what equipment is allowed on your hunt. It's also wise to research any local laws or customs that may affect your trip before embarking on your journey. Being aware of these restrictions will ensure that your experience is both safe and enjoyable.
Experienced Outfitters and Professional Hunters
When pursuing plains game in South Africa, it is essential to find experienced guides and outfitters. These professionals are well versed in the regulations and have the knowledge and expertise to ensure a safe and successful hunt. They can provide advice on the best concessions, as well as assistance with licenses, permits and other paperwork.
Experienced Professional Hunters also offer an array of services that can make your hunt enjoyable and memorable. They can arrange accommodations, transportation and meals while you're out in the bush. In addition, they will be able to help you identify the quality animals that you should be targeting based on local conditions.
Finally, experienced guides will be able to provide invaluable advice about safety precautions and proper techniques so that you maximize your chances for success during your safaris. They have years of experience and know what it takes to make a successful hunt happen. With the help of a good Outfitter, you are sure to have an unforgettable experience during your plains game hunt.
Tactics and Techniques for African Hunting
Because of the varied topography and habitats that the different species of plains game prefer to inhabit, a variety of tactics need to be employed to ensure the greatest possibility of success. Tactics are adapted to suit the client's preference and fitness level.
Walk and Stalk Method
Walk and stalk is exactly what you think. You, the guide and the tracker will walk through the bush until you spot the quarry. The P H will evaluate the trophy quality of the animals you are after. You will then stalk closer until you are in range to make a clean ethical shot. Shooting distances will vary from around 75 yards in bushveld to a distance of up to 300 yards in open grass land.
Drive, Spot and Stalk
The drive, spot and stalk tactic involves using a vehicle to drive through the area until the trophy species is spotted. After the trophy quality has been assessed by the Professional hunter a stalk is made to within range to enable the hunter to make a clean kill shot.
Glassing
The hunter will sit on top of an elevated topographical feature such as a ridge or hill top and use your binoculars to spot the desired game species. When the quarry is spotted a stalk will be made to within a comfortable shooting range.
Bow Hunting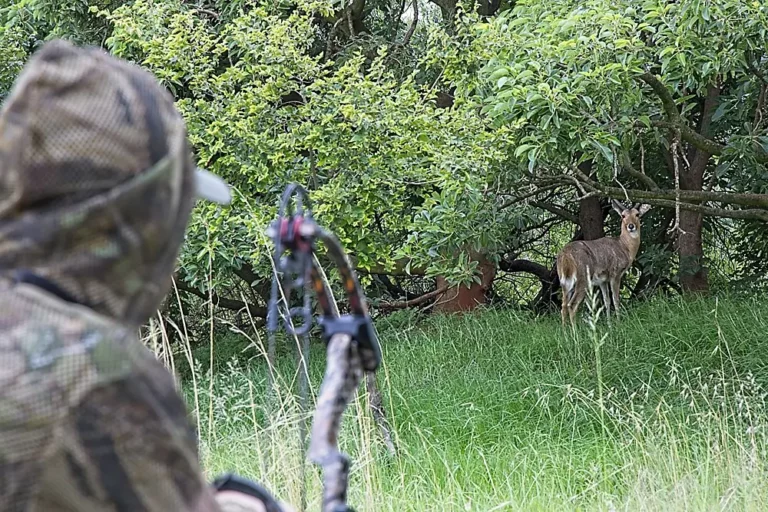 The most successful method for plains game with a bow in South Africa is by hunting form a well constructed blind. The blind is built in such a way that it both conceals the bow hunter and minimizes the dispersion of scent. Shots at plains game from a good bow blind will be from around 30 yards. The shot is taken once the animal presents an unobstructed direct line to the vital organs. This results in a quick humane kill. Make sure you have the right equipment.
While it is possible to pursue plains game by the walk and stalk method, it is much harder to get within comfortable bow range. Shot opportunities using the walk and stalk method are often presented at ranges of around 50 yards. This method is therefore only recommended for the most experienced on a bow hunt in South Africa.
Rifles and Other Equipment for Plains Game Hunting
The following are a few suggestions as to what rifles and bow equipment generally provides the best results for plains game in South Africa. Because of the varied conditions and habitats in which you may be operating it is best to ask your P H or Outfitter for their recommendations.
Most of the generally preferred calibers will be perfectly suitable for your plains game. The old favorites such as the 308, 30-06, 7mm Remington Magnum 7mm-08 and 300 Winchester Magnum firing a bullet of between 140 – 250 grains will all get the job done. There are a myriad of other lesser known calibers that fall into this same class that will provide perfect satisfaction when used while rifle hunting in South Africa. Use what you already have and are comfortable shooting in the woods back home, we do have some caliber and rifle recommendations for a hunting safari.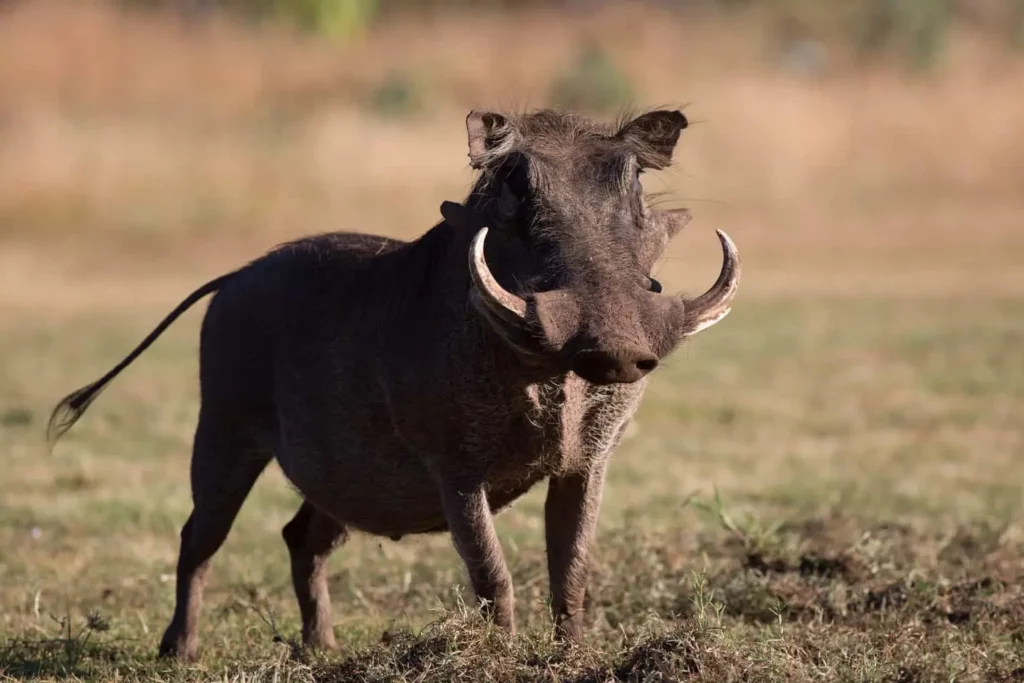 Optics
For close range plains game in the South African bushveld we recommend a rifle scope with a magnification of between 4 and 9 power. For the more open grass lands where shooting distances are more likely to be longer an optic with between 12 and 15 magnification will be more suitable.
Bow Equipment
A bow with a draw weight of between 50 and 70 pounds shooting arrows of between 440 and 560 grains will be perfect for most plains game species. Both fixed blade and mechanical broad heads weighing between 100 and 200 grains will provide clean humane kills provided that they are razor sharp. Shot placement is everything when it comes to quick efficient kills on African game.
Frequently Asked Questions
Is There A Minimum Age Requirement For Hunting Plains Game?
A frequently asked question is what is the minimum age to participate in a plains game Safari.
Any child that is proficient and safety conscious when handling firearms is able to participate in African plains game hunting. A good rule of thumb is from 8 years and older.
Are Non-Hunters or Observers Allowed On Plains Game Hunting Safaris?
Are non-hunters allowed on plains game trips? This is a question that many people ask before they embark on a African adventure. For those who are unfamiliar with the concept of shooting, it can be an intimidating experience, and for some, even the thought of being in close proximity to wild animals can be nerve-wracking. But for those who are looking to enjoy the thrill without actually participating, there are options available.
In most cases, non-hunters are allowed to accompany hunters on plains game trips as long as they don't interfere with the hunt or create any distractions. These individuals will not be expected to participate in the hunt itself but can still enjoy all of the sights and sounds associated with being in the African bush. Non-hunters will also be able to observe how Professional Hunters conduct their Safaris. This could provide valuable insight into game and conservation practices. Additionally, they may be able to take part in activities such as photography or wildlife viewing while on these trips.
What Is The Success Rate For South Africa Plains Game Hunts?
Plains game hunting is a popular activity for many visiting hunters, but one question that often arises is what the success rate is. There are a few factors that contribute to the success rate of South African game hunting, and it's important to understand them in order to make the most of your trip.
The terrain you'll be operating in can greatly affect your success rate. For example, if you're operating in open grasslands or flat areas, longer shots and good marksmanship will help to secure your trophy. Additionally, the type of animals you'll be pursuing will also play an important role in determining how successful your hunt will be. Some animal species are just harder to hunt. Professional hunters are good at their jobs and should be able to put you within range of the animal you are after.
Finally, having a good guide with local knowledge can drastically increase your chances of bagging a trophy-worthy animal. Guides who know the area well will be able to point out potential spots where animals like to feed and rest, giving you an advantage when seeking your preferred species.
In conclusion, there are several factors that influence the success rate of a plains game hunt; from terrain to wildlife species and even access to proper equipment and guides with local knowledge. Understanding these elements can help hunters plan their trips accordingly and make sure they get the most out of their experience.
South Africa Plains Game
In conclusion, an African safari in South Africa is a unique experience for hunters of all ages. From the wild open plains of Africa to the unique methods, it's an experience unlike any other. As far as non-hunters are concerned, they're welcome on most trips as long as they abide by the regulations and understand the risks involved. So if you're looking for a thrilling adventure and want to pursue some of Africa's most iconic species, then big game hunting in South Africa is certainly something you should consider. I'm sure it'll be an unforgettable experience that you won't soon forget!
A trophy hunting trip to South Africa provides probably the best bang for your buck available anywhere. Plains game species are plentiful and varied, relatively cost effective and easily accessible. Book your hunt in Africa, you will not be disappointed.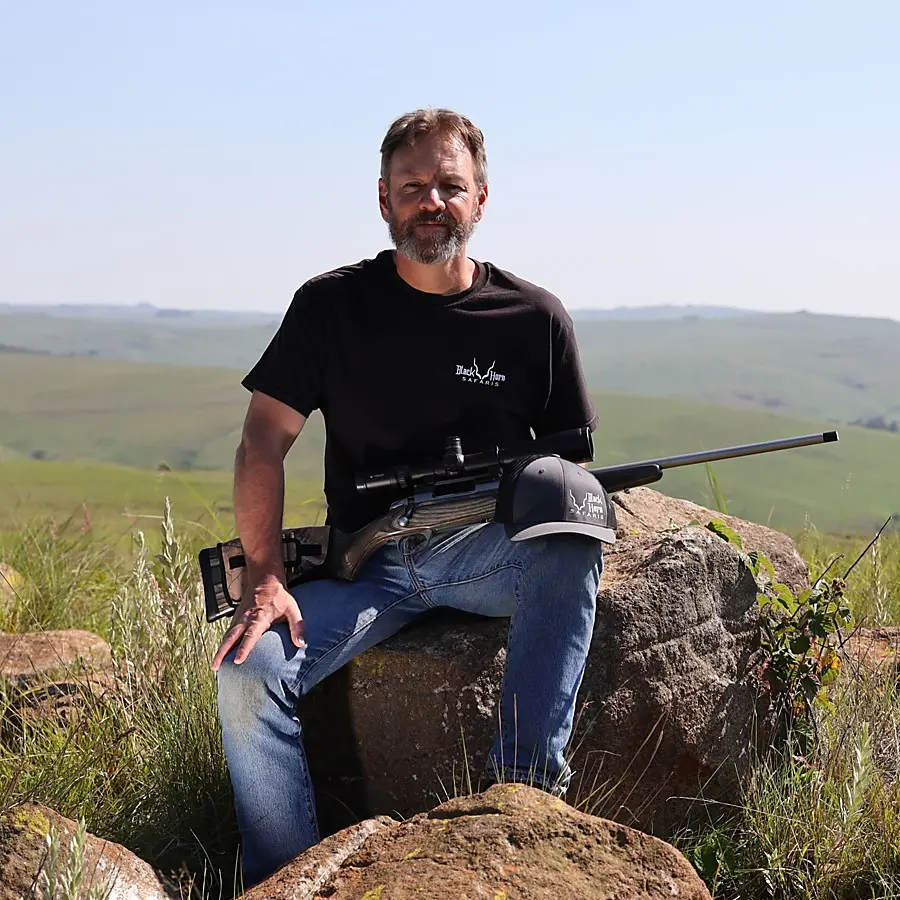 Adrian Anderson first obtained his Professional Hunters license in 1991. He is a Big Five and Dangerous Game licensed Professional Hunter and Hunting Outfitter. He has a tremendous love for wildlife and the African bush and enjoys sharing his knowledge with the hunting clients that he guides. Guiding hunters in Africa's wild places is a passion and seeing them succeed with their goals brings satisfaction. With knowledge of the Safari industry built up over 32 years he is well qualified to give guidance to his hunting clients.