Gemsbok, also known as Oryx, are magnificent and sought-after animals for bow hunting enthusiasts. Their striking appearance, powerful build, and challenging behavior make them a thrilling target for those seeking an adrenaline-filled hunting experience. South Africa, with its diverse wildlife and stunning landscapes, has become a popular destination for bow hunters from around the world. If you are considering a bow hunt in South Africa for Gemsbuck, it's important to understand the various Prices and options that can influence the overall cost of such an adventure.
What is the price in South Africa to Bow Hunt a Gemsbok?
The price in South Africa to bow hunt a Gemsbok in 2024 hunting season is: $ 1 500.
This is the fee for the animal. To this you still need to add the day fees for the hunt.
Contact us for any additional information.
South African Day Fees for A Trophy Gemsbok Hunt
If you hunt 2 X 1 in other words you share the hunt and opportunities with a friend – wife – son the price is $ 350 per day for each hunter.
If you hunt 1 X 1 in other words you have the services of a guide to yourself and do not share the animals and opportunities with anyone else the price is $ 450 per day.
2 X 1 $ 350 per person per day – 1 X 1 450 per person per day.
So the final inclusive price for the hunting trip will be number of days x the day fee plus the animal fee.
7 days X $ 350 = $ 2 450 + Trophy fee $ 1 500 for a Total Cost of $ 3 950
What is included in the day fees?
Daily Rate Includes
Guide Fees
Licenses
Meals
Accommodation
Soft drinks
limited Beer and Wine
Field preparation of trophies
Road transportation from Johannesburg International Airport
For more information take a look at the price list.
What is not included in the day fee?
Daily Rate Excludes
Airfare or flight
Taxidermist charges
Gratuities
Items of a personal nature
VAT on day fees at 15%
Safari Insurance
CITIES Permits
RIFLE HIRE
What is the cost of a bow hunting Safari package that includes a Gemsbok?
The price of a bow hunting Package with a Gemsbok is:
$ 10 350 for the Gold Package. This package includes 7 hunting days, 5 plains game Trophy Animals – Kudu Gemsbok, Nyala, Impala, and Warthog. It also includes Accommodation, meals and soft drinks, the services of a professional hunting guide, the skinning and field preparation of your trophies and road transportation to and from Johannesburg International airport.
Please note: This price is for hunting 2 X 1. If hunting 1 X 1 the cost is $ 11 000.
To embark on an unforgettable South African bowhunting experience for Gemsbok, it's crucial to select the right package. Several factors influence the cost, including the duration of the hunt, the number of animals included, and the quality of accommodations. Generally, packages range from basic options to luxurious experiences, catering to different preferences and budgets.
Hunting Packages and Accommodation
When planning a bow hunting trip in Southern Africa for Gemsbok, hunters can choose from a range of packages offered by reputable outfitters. These packages often include accommodations, meals, professional guides, transportation, and other services. The price of these packages can vary depending on factors such as the duration of the trip, the number of Gemsbok and other plains game included, and the quality of the lodging provided.
The cost of a bow package for a Gemsbok bull can range from $3,950 to $10,350 or more, depending on the animals and services offered. It's essential to carefully review the details of each package to ensure that it meets your specific needs and preferences.
Trophy Fee and Additional Costs
Included in the package, are the animal fees and other costs associated with the Gemsbok hunt. Trophy fees are charges imposed for harvesting specific animals, usually based on the size and quality of the animal. The trophy fee for a Gemsbok in South Africa $ 1 500, depending on the outfitter and the horn length of the animal. A good Gemsbok's horns will be between 36 and 38 inches in the Limpopo province bushveld but may measure 42 inches in the Kalahari desert and Namibia. These animals are also found in Botswana and Zimbabwe. Note that both sexes carry horns and you will need your guide to point out which trophies to harvest.
While these fees cover the cost of harvesting the Gemsbok trophy, there are other potential expenses to consider. These may include transportation to and from the concession area, firearm rentals (if applicable), taxidermist services, export permits, and shipping costs. It's advisable to discuss these additional costs with your outfitter beforehand to avoid any surprises. Any additional plains game hunting that you wish to do for other antelope such as Wildebeest will be in addition to the price of this hunt.
Travel and Logistics
Travel expenses are an important consideration when planning a trip for Gemsbok in Africa. International flights, accommodation before and after the hunt, and transportation within South Africa can all contribute to the overall cost. It's recommended to book flights and accommodations well in advance to secure the best rates and ensure a smooth travel experience.
Additionally, hunters should be aware of the necessary permits and documentation required for bow hunting in South Africa. This may include a permit, a temporary import permit for your rifle and equipment, and any necessary permits. Consulting with your outfitter or a local guide will help you navigate the logistics and legal requirements of bow hunting in South Africa.
Equipment and Gear
Some essential items for archery Gemsbok include a reliable compound or crossbow with appropriate draw weight, arrows, broad heads, camouflage clothing, boots, a rangefinder, binoculars, and various other accessories. The cost of these items can vary significantly depending on the brand, quality, and personal preferences of the hunter. Make sure you have the right bow hunting equipment.
Shot Placement
Shot placement is a vital skill to learn, during a walk and stalk or spot and stalk hunt the angles change rapidly. A lung shot or quartering away angle are preferred to bring the animal down quickly. Blind hunting over waterholes provides the most controlled environment and makes thing a little easier when it comes to choosing when to shoot.
Conclusion
Pursuing Gemsbok with a bow in South Africa offers an unforgettable experience for those seeking an African hunting safari. To ensure a successful and enjoyable trip, it's crucial to consider the various factors that influence the overall cost. These factors include packages, accommodation, additional costs, travel and logistics, as well as equipment and gear requirements.
By carefully planning and budgeting for your Gemsbuck bow hunting trip, you can embark on an incredible journey filled with excitement, challenge, and the opportunity to connect with nature. South Africa's abundant wildlife and stunning landscapes are waiting to be explored, providing bow hunters with an experience they will cherish for a lifetime.
FAQ's Frequently Asked Questions
What factors can influence the overall cost of a hunting trip for Gemsbok in Africa?
The overall cost can be influenced by factors such as the package chosen, accommodations, additional costs, and travel expenses.
How much does a package for Gemsbok in South Africa typically cost?
The cost of a package can range from $3,950 to $10,350 or more, depending on the animals and services offered.
Are there any additional costs to consider when bow hunting Gemsbok in Southern Africa?
Yes, in addition to the package, bow hunters must consider other potential expenses such as transportation, firearm rental, taxidermy services, export permits, and shipping costs.
What are the travel expenses associated with a trip to Africa for Gemsbok?
Travel expenses may include international flights, accommodation before and after the trip, and transportation within the country. It is recommended to book flights and accommodations well in advance.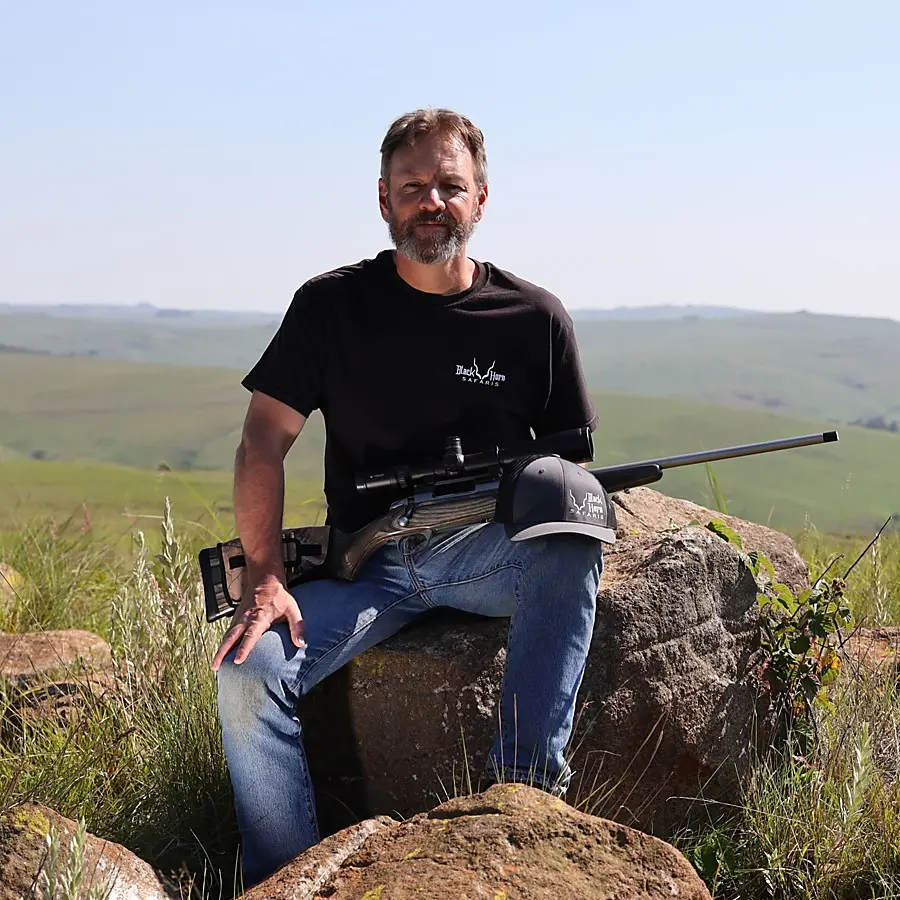 Adrian Anderson first obtained his Professional Hunters license in 1991. He is a Big Five and Dangerous Game licensed Professional Hunter and Hunting Outfitter. He has a tremendous love for wildlife and the African bush and enjoys sharing his knowledge with the hunting clients that he guides. Guiding hunters in Africa's wild places is a passion and seeing them succeed with their goals brings satisfaction. With knowledge of the Safari industry built up over 32 years he is well qualified to give guidance to his hunting clients.