Bow hunting is an exhilarating and challenging sport that allows individuals to connect with nature and test their skills in the wild. If you are an avid bow hunter and have set your sights on Blesbuck, South Africa is a fantastic destination to pursue your passion. In this article, we will delve into the details of a bow hunt in South Africa for Blesbok, providing you with a comprehensive guide to plan your next hunting adventure.
Understanding the Blesbok
Before we dive into the price details, lets get familiar with the Blesbok, its characteristics, and habitat. The common Blesbok, scientifically known as Damaliscus pygargus phillipsi, is a medium-sized antelope species endemic to South Africa. It is renowned for its striking appearance, with a distinct white face, dark brown body, and prominent horns in both males and females. These plains game animals are closely related to Bontebok and have a distinct color variation the White Blesbok, which can also be found in Namibia.
Blesbok prefer open grasslands and bushveld, making South Africa's expansive open plains a perfect habitat for these game species. Their herbivorous diet mainly consists of grass, and they are generally found in herds, making them an exciting target for bow hunters.
What is the price in South Africa to Bow Hunt Blesbuck?
The price in South Africa to bow hunt Blesbuck or the trophy fee is: $ 650.
This is the fee for the animal. To this you still need to add the day fees for the safari.
Contact us for any additional information or enquire about availability.
South African Daily Rates for a Hunting Safari
If you hunt 2 X 1 in other words you share the safari and opportunities with a friend – wife – son the price is $ 350 per day for each hunter.
If you hunt 1 X 1 in other words you have the services of a guide to yourself and do not share the animals and opportunities with anyone else the price is $ 450 per day.
2 X 1 @ $ 350 per person per day or 1 X 1 @ 450 per person per day.
So the final inclusive price for the trip will be number of days x the day fee plus the animal fee.
7 days X $ 350 = $ 2 450 + Trophy fee $ 650 for a Total Cost of $ 3 100 all-inclusive.
What is included in the 2023 and 2024 day fees?
Daily Rate Includes
Professional guides Fees
Licenses
Meals
Accommodation
Soft drinks
limited Beer and Wine
Field preparation of your animals by a skinner
Road transportation from Johannesburg International Airport
For more information take a look at the bow hunting prices and price list.
What is not included in the day fee?
Day Rate Excludes
Airfare or flight
Taxidermist and taxidermy costs
Gratuities
Items of a personal nature
VAT on day fees at 15%
Safari Insurance
CITIES Permits
Rifle hire
What is the cost of Bow Hunting Package that includes a Blesbok Trophy Fee?
The price of a bow hunting Package that includes a Blesbok is: $ 3 100
This package hunt includes 7 hunting days, 1 animal – Blesbok. It also includes Accommodation, meals and soft drinks, the services of professional hunter, the skinning and field preparation of your trophies and road transportation to and from Johannesburg International airport.
Please note: This price is for hunting 2 X 1. If hunting 1 X 1 the cost is $ 3 800. Hunters should consider adding other trophy animals like Black Wildebeest and Impala to this Hartebeest hunt.
To embark on an unforgettable African bowhunting experience, it's crucial to select the right package. Several factors influence the cost, including the duration of the safari, the number of animals included, and the quality of accommodations. Generally, packages range from basic options to luxurious experiences, catering to different preferences and budgets.
The best Blesbok hunting is in the Limpopo province and Eastern Cape where these animals are abundant. Consider a South African hunt during the winter months that includes plains game hunting for antelope such as Eland, Blue Wildebeest, Kudu, Nyala and Bushbuck, you might also think about including a dangerous game safari for Cape Buffalo. You will have the opportunity to hunt with either spot and stalk in open areas and near water in the late afternoon or hunt from a blind overlooking water, with both methods you will have plenty of hunting opportunities.
Hunting Packages and Pricing
When planning a safari hunt for Blesbok, it is crucial to consider the various packages and pricing options available. The cost will typically depend on factors such as the duration of the hunt, the number of animals desired, accommodation, transportation, and additional services provided by the outfitter or hunting lodge.
Full Package Hunt
Full package hunts are a popular choice among archery hunters as they encompass all the essential elements required for a successful and fulfilling hunting experience. These packages usually include the following:
Accommodation:
Comfortable lodging in a hunting lodge or a nearby camp is typically provided.
Professional Guide:
An experienced hunting guide will be assigned to you throughout the hunt, ensuring your safety and assisting you in tracking and harvesting your animals .
Transportation:
Transportation to and from the hunting areas, as well as airport transfers, are generally included.
Skinning and Field Preparation:
The outfitter will handle the skinning and initial processing of your harvested Animal.
The cost of a full package for Blesbok can range anywhere from $2,800 to $4,000, depending on the quality of accommodation, amenities, and services provided. It is recommended to research and compare multiple outfitters to find the one that best suits your requirements and budget.
Additional Costs and Considerations
While the full package hunt covers most aspects of your hunting trip, it is essential to be aware of additional costs and considerations that may arise. These include:
Size
Some outfitters offer pricing tiers based on the size of the animal you wish to pursue. Larger animals may command higher prices due to their rarity and desirability.
Taxidermy and Shipping:
If you plan to mount your African Blesbok or transport it back to your home country, taxidermy services and shipping fees will be additional costs to consider.
Gratuities:
It is customary to tip your guide and other staff members for their exceptional service. Although not mandatory, it is recommended to budget for gratuities as a token of appreciation.
Travel Expenses:
Apart from the package hunt, you should account for travel expenses such as airfare, visa fees, and travel insurance.
Conclusion
Bow hunting Blesbok in South Africa provides a thrilling experience for enthusiasts seeking a challenging and rewarding adventure. With the diverse landscapes and abundant Blesbok population, South Africa offers an ideal setting for hunters to test their skills. When considering the price of archery hunting trip, it is essential to factor in full packages, additional costs, and considerations to ensure a memorable and well-planned experience. So gear up, hone your archery skills, and embark on an unforgettable African hunting safari!
FAQ's Frequently Asked Questions
What is the Blesbok known for?
The Blesbok is known for its striking appearance, with a distinct white face, dark brown body, and prominent horns in both males and females.
Where can I find Blesbok in South Africa?
Blesbok are found in South Africa's expansive open areas, particularly in open grasslands and bushveld.
What is included in a full Africa hunt?
A full Africa hunt typically includes accommodation, a professional guide, fees, meals, and transportation.
Are additional fees applicable for hunting multiple animals or other species?
Yes, additional fees may apply if you wish to hunt multiple animals or other species.
Are cull hunts available?
Yes – every now and again cull hunts are available for non-trophy animals which you can harvest on your African safari at discounted prices.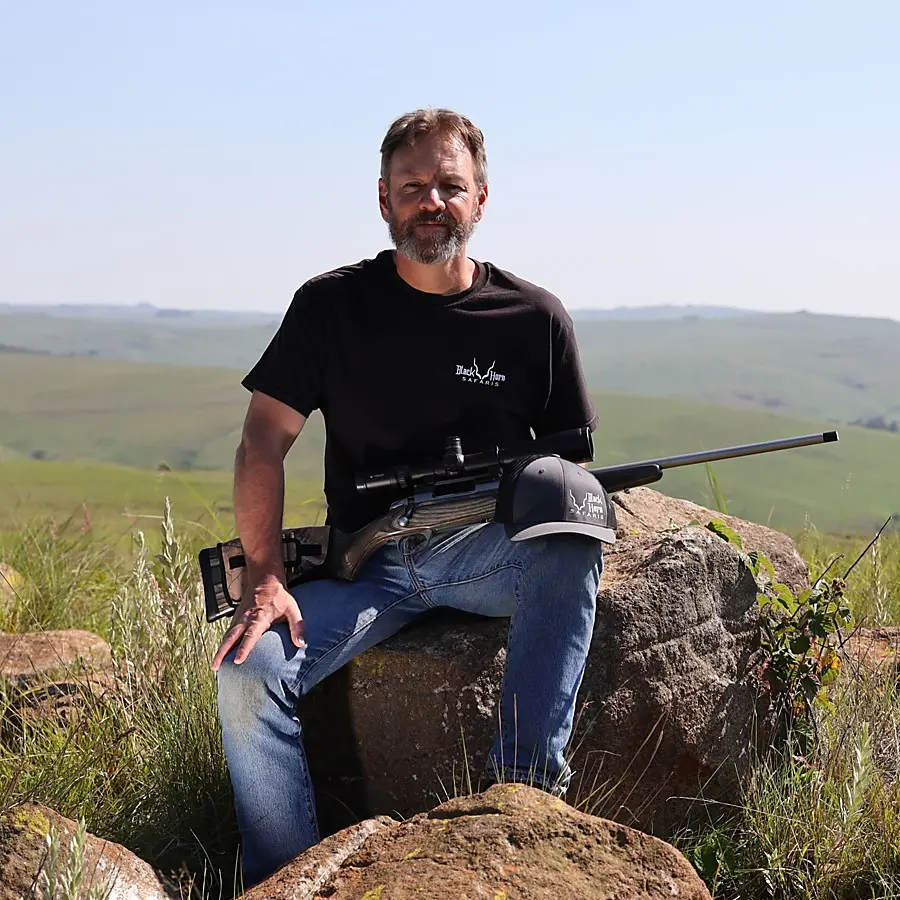 Adrian Anderson first obtained his Professional Hunters license in 1991. He is a Big Five and Dangerous Game licensed Professional Hunter and Hunting Outfitter. He has a tremendous love for wildlife and the African bush and enjoys sharing his knowledge with the hunting clients that he guides. Guiding hunters in Africa's wild places is a passion and seeing them succeed with their goals brings satisfaction. With knowledge of the Safari industry built up over 32 years he is well qualified to give guidance to his hunting clients.