If you are thinking about booking a hunting trip in Africa the following article could be worth reading. In this article we offer insights and information about the country, provinces and species that you may find helpful to your African Safari planning.
For centuries South Africa has been considered the premium hunting destination on the African Continent and probably the best choice for first time Safari hunters. With around 140 game reserves and parks spread throughout the country, wild life is abundant. The National Parks are considered a must visit on the list of wildlife enthusiasts. These game reserves still host large numbers of Elephants, Lions, Leopards, Buffalo, Rhino and plains game.
African Safari in South Africa – Quick Highlights
South Africa has the best infrastructure
Easy VISA requirements
South Africans are generally extremely friendly and hospitable people
Huge choice of areas and destinations
Large variety of species to choose from
Species not available in other areas
Lower prices than Zimbabwe, Mozambique, Zambia and Tanzania.
A well regulated industry
Areas generally easily accessible means less time spent travelling
Great climate
Variety of side attractions such as National Parks, Sun City and Cape Town
Excellent medical facilities should you need them
Facilities and Infrastructure
With over 50 million inhabitants and 11 official languages it is certainly a diverse country. South Africa ticks all of the right boxes that a trophy hunter could want. South Africa has one of the best developed infrastructures in Africa. Hotels, lodges and other accommodation options are plentiful and easily accessible. Prices for accommodation vary widely and are generally quite reasonably priced. Good Restaurants and takeout food options are freely available. Airports are located in some main centers and larger cities, making fast travel convenient.
VISA and Inoculation Requirements
Visitors from the U.S.A. and most European countries do not require a VISA when their stay will be for a period of less than 90 days. A Yellow Fever inoculation certificate is required if passing through a Yellow Fever belt before arrival in S.A. To see the visitor VISA requirements for your adventure click here.
Provinces Where Hunting Takes Place in South Africa
South Africa is made up of nine provinces. However 50% of the most sought after species are hunted in Limpopo and Cape province. Most of the nine provinces offer some sort of game hunting. Some of the provinces are quite limited in the number of species that are available on your hunting adventure. Here is a breakdown of the provinces and the species offered.
Western Cape
The Western Cape has Cape Town as it's main City. The climate is considered Mediterranean, with winter rain fall and dry summers. Landscape varies from mountainous to flat Karoo plains. Species found in the Western Cape include Springbuck, Cape Kudu, Grey or Vaal Rhebuck, Cape Grysbok, Bontebok, Blesbuck, Cape Eland, Gemsbuck, and Fallow Deer. The Western Cape Province receives rain during the winter months.
Northern Cape
The Northern Cape is the largest province and is almost the size of Montana. It is also the most sparsely populate province. The Northern Cape has Kimberley as its main city. This province is mostly flat and has an extremely dry climate. Sparse rainfall occurs mostly in the summer months and is considered arid to semiarid. Game species found in the Northern Cape include Gemsbuck, Cape Kudu, Cape Eland, Impala, Blue Wildebeest, Steenbuck, Blesbuck, Cape Springbuck, Red Haartebeest, Sable Antelope, Warthog and Cape Buffalo. The Northern Cape Receives rain during the summer months.
Eastern Cape
The Eastern Cape has as its main City Port Elizabeth and is one of the largest provinces. It has a variable rainfall and gets progressively drier as you travel west. Topography varies from flat Karoo to mountainous and finally lush coastal forests where it meets the Indian Ocean. This is one of the most diverse provinces in southern Africa. Wildlife is varied and includes the Big 5 on some private nature reserves. One of the main attractions for visitors is the Addo Elephant Park where game viewing includes Elephant, Cape Buffalo and Rhino among many other game species. Game species found in the Eastern Cape include Cape Buffalo, Cape Eland, Blesbuck, Cape Kudu, Impala, Sable Antelope, Bushbuck, Red Hartebeest, both Black and Blue Wildebeest, Steenbuck, Grey Duiker, Cape Grysbok, Blue Duiker, Gemsbuck, Nyala, Cape Springbuck (South Africa's national animal), Vaal Rhebuck, Mountain Reedbuck among others. The Eastern Cape also hosts a number of exotic game species such as Fallow Deer, Indian Blackbuck, Audad, Red Lechwe, Scimitar Horned Oryx and mouse deer not commonly found on the African continent . The Eastern Cape Province receives most of its rainfall during the summer.
Orange Free State
The Orange Free State is one of the smaller provinces with an area of 129 820 sq Km or 50 120 sq mi. Its main City is a relatively large city called Bloemfontein. The Orange Free State province has a typography that varies from flat open planes to mountainous in the East. Game species include Blue Wildebeest, Black Wildebeest, Red Haartebeest, Eland, Blesbuck, Springbuck, Cape Eland, Cape Buffalo, Steenbuck, Mountain Reedbuck, Common Reedbuck, Warthog, Impala and some exotic species like Fallow Deer and Red Lechwe among others. The Orange Free State has a summer rainfall pattern.
North West Province
The North West Province forms part of the western border with Botswana. It has an area of 105 000 sq km or 40 500 sq miles and a population of 4 000 000 inhabitants. The North West Province is one of the flattest provinces. With Mahikeng as its Capital City and the city of Klerksdorp as its biggest city. North West is second only to the Northern Cape Province for the lack of rainfall, thus it is one of the drier provinces. The well known Pilanesberg Game Reserve is situated in North West province and provides excellent game viewing opportunities including The Big Five. The North West Province offers good trophies for the following game species: Southern Greater Kudu, Cape Eland, Sable Antelope, Cape Buffalo, Warthog, Impala, Gemsbuck / Oryx, Red Hartebeest, Blue Wildebeest, Steenbuck, Grey Duiker, Waterbuck, Bushbuck, Springbuck, Burchells Zebra, Tsessebe, Black Wildebeest and Blesbuck among others. It is considered a summer rainfall region and relatively dry.
Gauteng
The Province of Gold. Gauteng Province has an area of 18 000 sq Km and a population of around 15 million making it the smallest and most densely populated province. Gauteng has as it's capital and main city Johannesburg. Gauteng province is where most first time visitors will arrive before heading out on safari. Gauteng offers relatively little in the way of great opportunities and top class trophies. Not the best choice.
Limpopo
The Limpopo is South Africa's northern most province, and is named after the Limpopo River that forms the Northern border. The Limpopo province has an estimated population of around six million. With an area of around 126 000 sq Km it borders on both Botswana in the West and Zimbabwe to the North and is considered the gateway to the rest of Africa. The Limpopo province is arguably the most game rich region and includes a good portion of the Kruger Park. Limpopo has as it's capital the city of Polokwane.
Game species found in the Limpopo province include all of the Big Five species, namely Elephant, Rhino, Lion, Leopard and Cape Buffalo. Most other huntable game species available are offered in Limpopo with few exceptions, such as Blue and Red Duiker, Cape Grysbok, Vaal or Grey Rhebuck etc. Exceptional trophies of the following species can be taken during a hunt: plains game like trophy Kudu, Sable Antelope, Roan Antelope, Red Hartebeest, Blue Wildebeest, Blesbuck, Impala, Limpopo Bushbuck, Sharpes Grysbok, Suni, White Rhino, Burchels Zebra, Steenbuck, Grey Duiker, Cape Eland as well as Livingstones Eland, Waterbuck, Klipspringer, Mountain Reedbuck, Common Reedbuck, Warthog, Bushpig, Nyala, Spotted Hyaena. Dangerous game like Leopard and Lion among other sought after species. The Limpopo province is truly one of the richest and most diverse destinations available. Limpopo receives it's rainfall during the summer months. The topography varies from flat planes to mountainous and riverine bush. Limpopo province is a great choice for African hunting safaris.
Natal / Kwazulu Natal
Natal Province covers an area of roughly 93 000 sq Km and has a population of around 11,5 million inhabitants. Natal has as its Eastern border the warm Indian Ocean and is bordered in the South by the Eastern Cape and the North by Mozambique. Natal has the coastal city of Durban as it's main city and Pietermaritzburg as its capital. The central portion of Natal is known as the Natal Midlands and consist mainly of a series of undulating hills. To the South and West one finds the formidable Drakensberg mountain range rising to an altitude of 11 500 ft or 3 500 m. Top trophy game species available in Natal include Cape Buffalo, Cape Eland, Southern Greater Kudu, Bushbuck, Nyala, Blue Wildebeest, Impala, Red Duiker, Common Reedbuck, Vaal or Grey Rhebuck, Oribi, Warthog, Steenbuck, White Rhino and Grey Duiker. Natal is considered a summer rainfall area. Typography varies from rolling hills to mountainous and lush riverine valleys.
Mpumalanga
Mpumalanga Province has an area of roughly 77 000 sq Km (29000 sq Miles) and a population of 4,6 million. It is bordered in the East by Mozambique, in the North by Limpopo and the South by Kwazulu Natal. Mpumalanga is divided by the Drakensberg mountain range and has in its Western areas what is known as the Highveld. The Highveld consist of a grassy plateau on top of the escarpment. Where the escarpment drops off into the Lowveld in the North and Eastern parts you find that the vegetation consists of bushveld and scrub with some dense riverine forest. Mpumalanga province has as it's capital Mbombela/Nelspruit. Mpumalanga is home to the world famous Kruger Park. Game species found in Mpumalanga include The dangerous game consisting of Elephant, Lion, Leopard, White Rhino and Cape Buffalo. Some notable trophy species that may interest the visiting sportsman include Elephant, White Rhino, Lion, Leopard, Buffalo, game such as Southern Greater Kudu, Waterbuck, Blue Wildebeest, Black Wildebeest, Sable Antelope, Cape Eland, Nyala, Red Hartebeest, Impala, Warthog, Common Reedbuck, Mountain Reedbuck, Vaal or Grey Rhebuck, Bushbuck, Bushpig, Blesbuck , Steenbuck, Grey Duiker and Burchells Zebra among other species. Mpumalanga has a summer rainfall pattern. Typography varies greatly from rolling hills to flat bushveld and mountainous terrain.
Climate in South Africa During Hunting Season
South Africa has four main climatic regions. The Western Cape has a Mediterranean climate experiencing a winter (April to September) rainfall pattern. Annual rainfall for Cape Town amounts to approximately 750 mm of rain. Temperatures vary from 4 degrees Celsius to around 33 degrees Celsius. The main Climatic region is considered a temperate climate and receives rain during the summer months (November to March). The average annual rainfall is approximately 500mm, but this figure does vary quite considerably from region to region. Average temperatures are again variable and fluctuate between -2 degrees Celsius and around 35 degrees Celsius. A small area in the North West is considered to have a desert climate and receives below average rainfall. Some of the Eastern parts have a tropical climate and receive in excess of 900 mm of rain annually. In general we are blessed with Warm sunny days, both winter and summer and cool nights during the winter period.
African Hunting Safari Outfitter
The Hunting Safari Outfitter is a crucial part of the success of your African hunting Safari. The African Outfitter will make all of the in country arrangements for your hunting safari. These arrangements include transportation to the concession and back to the airport after the hunt, meals and accommodation in a safari style lodge, the hunting area or concession, Professional Hunters, Trackers and Skinners, field preparation of your trophies and transportation of your trophies to the Taxidermist. South Africa has an abundance of licensed Hunting Outfitters. As with any other industry quality varies quite considerably and you can find excellent, mediocre and plain bad Safari Outfitters. The level of service that you will receive is not always immediately apparent just by looking at a website. Pricing is also not an indicator of service excellence, but as a general rule you get what you pay for. The Safari Company you pick should be chosen based on the following factors:
The animals that you are most keen to get on your hunting safari.
The area that you would like to visit for your African safaris.
Type of hunting eg. Rifle, Bow, Plains Game hunting or Wing Shooting.
Level of experience.
Fair chase hunting.
Some Hunting Outfitters do not offer certain methods where as other Outfitters specialize in that particular hunting method. The same applies to Long Range, Wing Shooting or other specialized hunting disciplines.
The Professional Hunters
The experienced Professional Hunters are the persons responsible for the day to day running of your hunting safari. In general you will find him or her to be likeable and polite and usually quite knowledgeable about the various animals offered. You are quite likely to get on well with your experienced professional hunters and part after the hunting safari as good friends. The industry is well regulated including guides . All prospective Professional Hunters and Hunting Outfitters must pass a stringent examination on the laws associated with wildlife and nature conservation. As well as the various methods of hunting, game animals and trophy requirements to qualify for both Safari Club International and Rowland Ward record books before they receive a Professional Hunters license or Outfitters License.
What do Hunting Safaris in South Africa Cost?
Prices in South African are considerably cheaper than in either Zimbabwe, Zambia, Mozambique, Tanzania or other popular African destinations where prices run upwards of $ 1000.00 per hunter per day. Quality Safaris might surprise you at how reasonable the costs can be. Generally the cost of African hunting safari including 5 African game species will be less than you would pay to kill an Elk in the USA with a guide. Prices will vary from one Outfitter to another, however you can expect to get what you pay for. Should you wish to share professional hunters with a friend you can save yourself some money. An average daily rate for a 2X1, (Two hunters hunting with one PH) will be around $ 350.00 per person per day. If you prefer to have all of the shot opportunities to yourself, 1X1 ie. 1 hunter hunting alone with a PH will set you back around $ 450.00 per day. These prices also apply for archery safaris and may be available with hunting packages.
For Example a 7 day African hunting safari including meals and accommodation in a lodge and 5 plains game species will cost an average of $ 5400.00.
7 day safari 2X1 @ $ 350.00 pp/per day = $ 2 450.00 + Trophy fees for 5 plains game species (Wildebeest, Zebra, Blesbuck, Impala and Warthog) = $ 2 950.00
For a Total cost of $ 5 400.00
If you include your flight @ $ 1000.00 that is still half of what you would expect to pay for a guided Elk hunting in the U.S.A.
Plains Game Hunting Packages in South Africa
A hunting package is a often a great way for the first time visitor to get started. Hunting Outfitters will sometimes discount either day fees or trophy fees included in plains game package hunts. Hunting packages can offer great value and cost savings to the hunter. Be mindful of the fact that sought after trophy game animals are normally not included in package hunts. Should Kudu, Eland or Sable Antelope, Bushbuck etc. be high on your list of priorities these animals can often be added to a hunting package if you negotiate with your Hunting Outfitter and are willing to pay the extra costs involved. Sometimes it may happen that you are not able to collect one of the African animals included in your package, some Outfitters may offer another animal as a substitute or replacement on these safaris. Professional Hunters will work extremely hard to make sure that you have opportunities to collect all animals included in your hunting package. See Pricing for Plains Game package hunts including trophy fees.
With few exceptions safari package hunts do not include any of the Big Five species, and these are normally sold as a separate Safari.
Pro Tip Even though you may have bought a safari package hunt, you may see a good specimen of something that is not included in your package. Do not miss these opportunities, you may not get another chance.
Trophy Shopping List
When hunting in SA it is a good idea to make up a list of animals that you are keen to hunt and mark them in your order of priority. Clearly communicate your list to your professional hunters so that he understands what species you are looking for and can work towards giving you the opportunity of collecting these species. At the same time have an open mind towards targets of opportunity that may cross your path. I have seen this happen on countless occasions where we come across an exceptional trophy of a species not on the clients list. The client decides not to take the animal, only to decide later that he/she would like to have that animal in their collection. Even though we hunted hard we never caught up with the animal again. In some instances it took five or six safaris before the client was able to secure a trophy of that species.
Making up a list of the species that you are most interested in will also help you pick the best area and Hunting Outfitter for your Safari. Some areas or Hunting Outfitters may not offer a specific trophy species that you are keen on securing.
Trophy Hunting Methods
Trophy Hunting involves a number of different hunting methods. Some of the most commonly used methods are as follows.
Drive-Spot and Stalk. This is the method most often used. Usually you will drive the bush tracks in an open hunting vehicle until you spot an animal that you would like to pursue. You will then dismount from the vehicle and slowly walk into the bush trying to spot the animal again. Once you spot the animal the professional hunters will take some time to judge the trophy quality of the animal. When a decision is made to shoot the animal, the PH will either set up shooting sticks or find a suitable position for you to shoot from.
Walk and Stalk. As the name suggests, you will spend time walking in the bush until you come across a suitable trophy. You will then stalk the animal to within range before taking the shot.
Spot and Stalk/Glassing. You will spend time sitting on a hill top or mountain using binoculars to spot the animals you are looking for. Once the animals are spotted you will close the distance to within a suitable shooting range to take the shot. Sometimes you will need to take the shot from where you are. This may require taking a longer than normal shot.
Hunting From a Blind. This method is most often used while archery hunting in South Africa. A Blind or Hide is normally setup near a watering hole. You spend your time in the blind patiently waiting for the trophy animals to come within shooting range. Once the trophy animals are within range the Professional Hunter will assess the trophy quality and let you know which animal to shoot.
Big Five Hunt
It is possible to hunt the Big Five and dangerous game in southern Africa. The term Big Five refers to Elephant, Lion, Leopard, Buffalo and Rhino. These animals are also referred to as the Dangerous Five for good reason, they will all kill you if given the chance. Most first time hunters to southern Africa would not include any of the Big Five species in their first safari. I would recommend that a person have one or two African Safaris under his or her belt before taking on these animals.
Elephant. Elephant are in the Private Nature reserves bordering on the National Park. Elephant populations need to be controlled to prevent over population which leads to habitat destruction in these reserves.
Lion. Lion can be hunted in the Private Nature reserves that butt up against the national park as well as some private hunting areas in the Orange Free State and Northern Cape. Lion hunting in the areas around Kruger Park is conducted in large areas varying from 30 000 Ha (60 000 acres) to 70 000 Ha (125 000 acres). Hunting in these areas you are assured of a wild lion hunt in his natural environment. The same cannot be said for the Lions offered in Orange Free State and Northern Cape. These are often captive bread Lions that are released shortly before the hunt. While this practice may be legal you are not getting the true African safari experience. Those who offer these lions do not practice fair chase.
Leopard. Leopard populations are still strong and Leopards plentiful even on privately owned land. Nature conservation has declined to issue Leopard hunting permits for the past several years, but it appears as if a limited number of permits will be issued in the near future.
Rhino. South Africa is the last stronghold of the White Rhino and populations have been maintained through conservation efforts. The recent increase in Rhino Poaching may have had a negative effect on privately owned Rhino populations. Land owners are becoming less inclined to run the risk of losing these valuable animals through poaching. White Rhino are occasionally offered for hunting but the more common and sustainable practice is "Green Hunting" Green Hunting involves darting the Rhino so that the trophy hunter can have a photograph taken with the animal. At this time critical measurements of the Rhino are taken so that the taxidermist can later make a fiber glass replica of the trophy to hang on the wall.
Cape Buffalo. Cape Buffalo populations are in great shape and trophy specimens are abundant. Buffalo prices are currently quite reasonable and are set to decrease during the next few years. Cape Buffalo can be hunted in the Private Nature reserves adjacent to the Kruger National Park as well as numerous privately owned game ranches. The trophy hunter is sure to have a good experience no matter whether the hunt takes place on private land or in the larger reserves.
Dangerous Five: The minimum requirement for all Big Five species is .375. During your hunt you will have a Professional Hunter to back you up so a bolt action rifle will be good enough. A rifle of .375 caliber shooting 270-300 gr soft point expanding bullets is perfect for both Lion and Leopard. For Buffalo, Elephant, Hippopotamus and Rhino you would be better off with a .416 or bigger. You will need both soft point expanding and solid ammunition. Shot placement is still the primary factor in making good clean kills and I would advise those hunters sensitive to recoil against using a hard recoiling rifle that they do not shoot well. Use only premium grade ammunition as the bullets tend to stay together and penetrate better.
Plains Game: The trophy hunter shooting plains game will find that a well placed bullet in the 140 – 250 gr range at a velocity of 2700 – 3100 ft/sec will kill cleanly on everything including the biggest game species. If your hunt will be in the more open areas and your shots taken at longer ranges a 7mm Remington Magnum or 300 Winchester magnum would be a great choice. Sight your rifle in for one weight of bullet and stick with that bullet. I recommend that you choose a bonded core bullet for all South African hunting as this type of bullet does not break up when it encounters big bones on the larger game species.
Importing Your Hunting Rifle to South Africa
You are allowed to import and use your own firearms during your trip to South Africa, this is the process to follow.
To import your rifle you will need to have the following documents:
A completed motivation letter from the Safari Outfitter that you will be hunting with.
A completed US customs Certificate Document US 4457.
A completed Temporary Firearms Import permit SAPS 520 form.
These forms can be found under documents.
When you arrive at the airport in South Africa you will need to go to the South African Police Firearms desk with your documentation to complete the process. You will then be issued with a temporary firearms import permit which you need to keep safely with your hunting rifle until you board the plane again on departure.
Note that South Africa does not allow the importation of Semiautomatic firearms.
Traveling with your Hunting Bow
I would recommend that you pack your bow setup in a best quality hard bow case that will keep it protected for the flight to South Africa. Make sure that the hard case is big enough to accommodate your bow, at least a dozen arrows, your release and range finder as well as any other bits and pieces you may need to bring along. The best hard bow cases are made from a heavy duty plastic and often have a set of wheels so that you do not have to carry them.
Shooting Practice for Your Hunts
In the months leading up to your Safari you need to get as much shooting practice as possible.
Rifle Hunting. Make sure that your rifle has been properly zeroed at a distance of 100 – 150 meters. Practice your shooting at least once a week by shooting from different positions. During your Safari you will need to take shots from shooting sticks, standing position free hand, kneeling position and prone position. It is important that you get comfortable making accurate shots from these positions. Most shots that you take will be at around 100 m but you may be required to take shots out to 350 – 400 meters in extreme cases. Practice getting on target and firing the shot quickly, the faster you are able to get the shot off the better. Most trophy hunters spend too much time getting on target, and end up missing shot opportunities.
Bow Hunting. Using bow equipment requires plenty of practice. I recommend practicing with your bow every second day leading up to your African hunting Safari. Practice shooting from standing, kneeling and sitting positions as often as possible. If you intend to use fixed blade broadheads for your hunt make sure that your bow is properly tuned and that they fly perfectly out to 50 m. The majority of your time should be spent shooting at 40 to 60 meters, this will make the average shot at 30 m seem easy and you will have the confidence to make these shots easily. Do spend time practicing at 60 m and gain confidence in your abilities at that distance. Being able to shoot out to 60 m will leave you with more options and allow you secure a trophy that you otherwise may not have been able to take. The best bow sight setup for Safari will be either a 5 pin sight or a sight where the pin can be moved to cover distances from 20 – 60 m. You will be doing a lot of shooting from inside of a blind where it will be dark. Make certain that your sight pins gather as much light as possible so that they are easily seen under low light conditions. A bow hunt in South Africa is well organized and provides plenty of shot opportunities this also applies to crossbow hunting.
Best Times for Hunting in Africa
In most areas the season extends for the whole year ie. January 1st to December 31st. However the best time to hunt is during the drier winter months. (The Western Cape Province being the exception as it receives winter rainfall) The months of April through September have warm sunny days and cool evenings and this is considered the prime time.
Taxidermist After Hunts
During your hunt your trophies will receive field preparation by the skinners that the Outfitter employs. Field preparation involves the skinning or caping and salting of the hides and cleaning of the horns and skulls. You will need to decide whether you would prefer to have the trophies you have taken mounted by your local taxidermist back home or a local taxidermist . Regardless of where you decide to have the final work done your trophies will need to be prepared for shipping back to your home country. Most Outfitters have a local taxidermist that does this work for them and that is where your trophy animals will be taken shortly after your hunt. If you will make use of your local taxidermist back home your trophies will be dipped in a solution that will kill all of the bugs, packed into crates and shipped to an address you have provided. If the South African taxidermist will do the final mounting of the trophies the work will take a little longer before they are shipped to you.
Payments and Credit Cards for a Hunt in Africa
When you book your African hunting Safari the Hunting Outfitter will require a deposit payment to secure your dates. This payment can be made by telegraphic funds transfer or TT, your bank will be able to assist you with this. After your hunt you will again need to settle your account with the Hunting Outfitter before your departure. There are two options for your final payment. The first option is by paying in cash. The second option is by settling with your Credit Card. If you intend to use your Card you will need to notify your bank that you will be travelling to South Africa so that they can unlock your card for international payments. Should you forget to do this the payment will be declined due to your banks security protocols. It is also worth mentioning that most Outfitters accept Visa and Mastercard, and are often not able to process payments on Diners Club and American Express. If you intend to pay with a Diners Club or American Express Card be sure to check with your Hunting Outfitter.
Safari Insurance for a Hunting Trip
It may be a good idea to take out Safari Insurance in case you are not able to make your trip to South Africa due to medical or other reasons. Something else worth consideration is signing up with a medical evacuation plan. Should you involved in a medical emergency this company will send a helicopter or light aircraft to quickly evacuate you to a medical facility where you can receive treatment.
Photography & Hunting Videos in Africa
Since it will be quite some time before you receive your trophy mounts after your safari in South Africa you will want good quality photographs to show your family and friends back home. Your Professional guide will do his best to get you great quality pictures of your trophies. The trend today is to take photos with a cell phone. Although cell phone technology is improving this will not get you the best possible photographs. My advice is to take a compact camera capable of at least 20 megapixel photographs and hand it to your PH while you are posing with your trophy. This small compact camera will also allow you to photograph the camp where you are staying as well as any interesting scenery you may see and show your family and friends back home.
Many Hunting Outfitters also offer a video service and will record your entire hunt. After the video has been edited they will send you a few copies of the video to share your hunt with your buddies. This is a great way to preserve the memory of your hunt and relive it again and again.
Clothing and other useful items to pack for your Hunting
Most lodges offer a daily laundry service so you will not need as much clothing for your hunt as you may first think. Here follows a list of what I would recommend.
A warm fleece or down jacket for the cool mornings and evenings.
A thick, warm sweater to wear under your jacket.
A set of casual clothing for travel and going out to restaurants etc.
Two Sweatshirts for wearing around the camp fire in the evenings.
A pair of Denim Jeans
A pair of comfortable worn in boots.
A pair of running shoes.
Four pairs of thick socks to wear with your boots.
Three pairs of light socks to wear with your running shoes.
Four warm, long sleeved shirts.
Three pairs of trousers.
One pair of short pants.
One pair of gloves.
Two hats or caps.
One tube of Sunscreen.
One lip balm.
Tick and insect spray.
One compact camera.
One flashlight with spare batteries.
A pair of Binoculars.
Cell phone.

Charger and batteries for the above.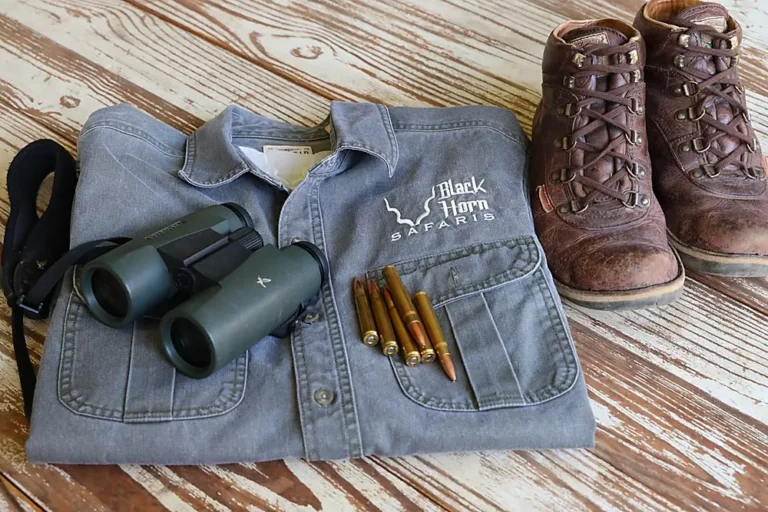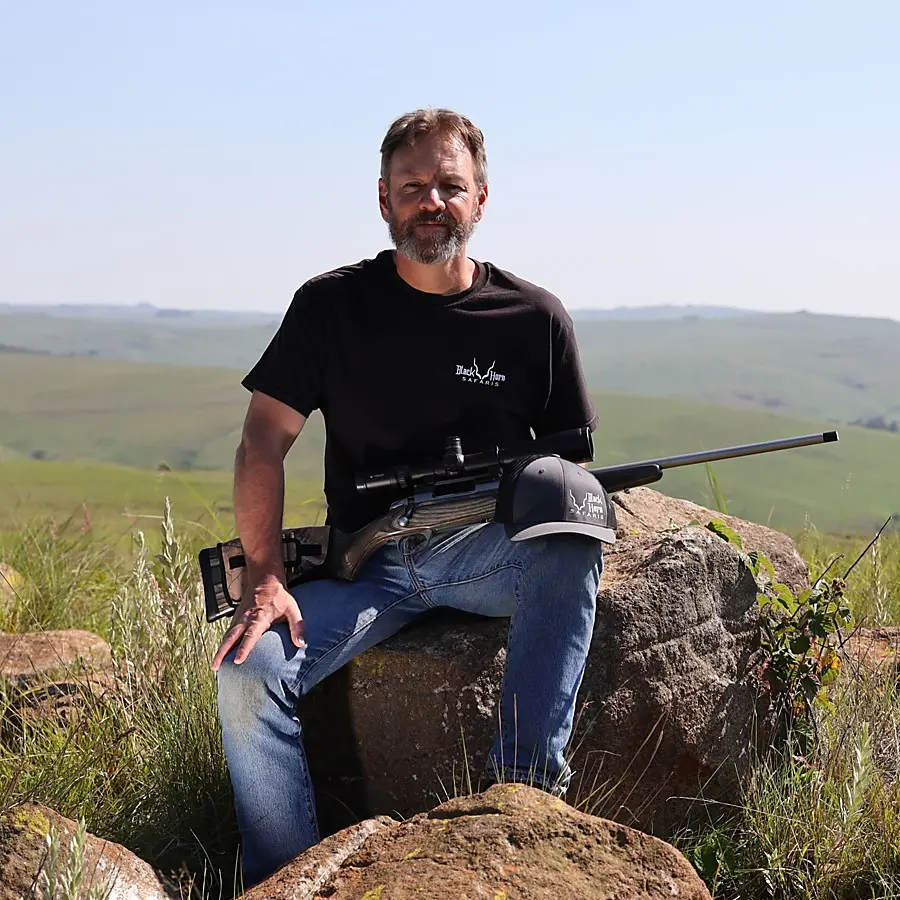 Adrian Anderson first obtained his Professional Hunters license in 1991. He is a Big Five and Dangerous Game licensed Professional Hunter and Hunting Outfitter. He has a tremendous love for wildlife and the African bush and enjoys sharing his knowledge with the hunting clients that he guides. Guiding hunters in Africa's wild places is a passion and seeing them succeed with their goals brings satisfaction. With knowledge of the Safari industry built up over 32 years he is well qualified to give guidance to his hunting clients.