Are you an avid bow hunter looking for an exhilarating adventure in the heart of Africa? South Africa, a country renowned for its diverse wildlife and stunning landscapes. Among its many prized game species, the Kudu stands out as a magnificent and challenging target for hunters. We cover prices, costs and bow hunting packages for a Kudu bow hunt in South Africa.
What is the price in South Africa to Bow Hunt a Kudu?
The price in South Africa to bow hunt a kudu or trophy fee is: $ 3 350.
Kudu up to 51 inches $ 3 350
Kudu 51 to 55 inches $ 4 200
This is the trophy fee for the animal. To this you still need to add the day fees for the hunt.
Contact us for any additional information.
Day Fees for A Trophy Kudu Hunt
If you hunt 1 X 1 in other words you have the services of a guide to yourself and do not share the animals and opportunities with anyone else the price is $ 450 per day.
If you hunt 2 X 1 in other words you share the hunt and opportunities with a friend – wife – son the price is $ 350 per day for each hunter.
2 X 1 $ 350 per person per day – 1 X 1 450 per person per day.
So the final inclusive price for the hunting safari will be number of days x the day fee plus the trophy fee.
7 days X $ 350 = $ 2 450 + Trophy fee $ 3 350 for a Total Cost of $ 5 800
What is included in the day fees?
Daily Rate Includes
Guide Fees
Licenses
Meals
Accommodation
Soft drinks
limited Beer and Wine
Field preparation of trophies
Road transportation from Johannesburg International Airport
What is not included in the day fee?
Daily Rate Excludes
Airfare or flight
Taxidermy
Gratuities
Items of a personal nature
VAT on day fees at 15%
Safari Insurance
CITIES Permits
RIFLE HIRE
What is the cost of a bow hunting Safari package that includes a Kudu?
The price of a bow hunting Package with a trophy Greater Kudu is:
$ 10 350 for the Gold Package. This package includes 7 hunting days of hunting, 5 plains game Trophy Animals – Kudu, Gemsbuck, Nyala, Impala, and Warthog. It also includes Accommodation, meals and soft drinks, the services of a professional hunting guide, the skinning and field preparation of your trophies and road transportation to and from Johannesburg International airport. Take a look at the spiral horn slam.
Please note: This price is for hunting 2 X 1. If hunting 1 X 1 the cost is $ 11 000.
To embark on an unforgettable South African bowhunting experience for Kudu, it's crucial to select the right safari hunting package. Several factors influence the cost, including the duration of the hunt, the number of animals included, and the quality of accommodations. Generally, hunting packages range from basic options to luxurious experiences, catering to different preferences and budgets.
Hunting Methods for Greater Kudu
You have a choice of hunting methods, either spot and stalk or hunting from a blind on your Africa hunting safari. The choice is largely dependent on the conditions in the hunting concession and the hunting opportunities available as well as the animals you wish to hunt. Animals like Giraffe, Sable and Nyala can be stalked, this is also a common method for hunting big game in the African bush. For hunting areas located near the Kruger National Park early mornings are often the best time to stalk animals but let your professional hunters guide you, they know and understand the conditions.
Hunting in South Africa – Additional Costs to Consider
When budgeting for your hunting experience in South Africa, it's essential to consider additional costs that may arise. These can include:
Travel expenses: Flights and any visa requirements.
Trophy shipping: If you wish to bring home your horns or other trophies, shipping costs may apply.
Gratuities: It is customary to tip your professional guide, trackers, and Africa hunting lodge staff for their service.
Taxidermy work: If you decide to have your animals mounted and prepared by a professional taxidermist in South Africa, additional fees will apply.
Book your hunts directly from outfitters this is normally the way to get the best price guarantee.
Important Considerations and Regulations
While planning your hunting trip to South Africa, it is essential to be aware of the following regulations and considerations that also apply to crossbow hunting:
Permits and licensing:
Ensure that your outfitter or professional guide has the necessary permits and licenses to conduct legal hunting activities in areas in South Africa.
Hunting seasons:
The best time for a Kudu hunting safari in the Limpopo province is from April to October. This is the dry winter period when leaves fall from the trees in the bush making it easier to locate animals. The animals are also frequently found near water sources which is better for archery hunting. The same applies for Zimbabwe, Namibia, Mozambique and the Cape.
Ethical hunting practices: Practice ethical hunting techniques, ensuring a clean and humane kill.
Conservation efforts:
Support outfitters and organizations that prioritize conservation efforts and sustainable hunting practices. Responsible hunting plays a crucial role in wildlife conservation and habitat preservation.
Conclusion
Embarking on an African hunting safari to pursue a trophy Kudu promises an unforgettable experience for any enthusiast. With a wide range of hunting packages available, catering to various budgets and preferences, there is an option for everyone. Remember to consider additional costs, adhere to hunting regulations, and prioritize ethical hunting practices. So gear up, hone your archery skills, and get ready to immerse yourself in South Africa and the enchanting world of hunting.
FAQ's Frequently asked Questions
What is the Kudu?
The Kudu, or Tragelaphus strepsiceros, is a large antelope native to southern and eastern Africa known for its long, spiral horns and graceful appearance.
What factors influence the cost of a hunting package for a Kudu?
The cost of a hunting package for Kudu is influenced by factors such as the duration of the hunt, the number of animals included, and the quality of the animals.
What is included in a basic hunting package in South Africa for Kudu?
A hunting package in South African Safari for Kudu typically includes professional guide fees, accommodations, meals and drinks, trophy fee for one Kudu and four other animals, field preparation of trophies, and road transportation to and from Johannesburg International airport.
What is the price in South Africa for a Kudu?
The price in South Africa for a Kudu is $ 3 350.00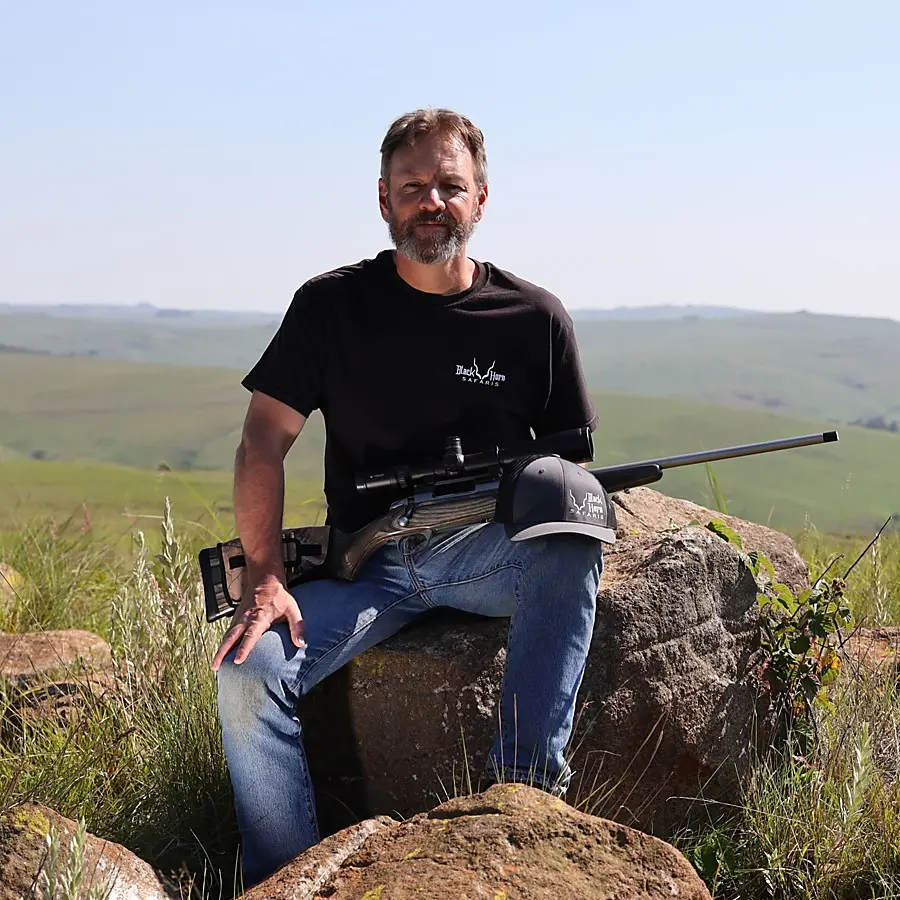 Adrian Anderson first obtained his Professional Hunters license in 1991. He is a Big Five and Dangerous Game licensed Professional Hunter and Hunting Outfitter. He has a tremendous love for wildlife and the African bush and enjoys sharing his knowledge with the hunting clients that he guides. Guiding hunters in Africa's wild places is a passion and seeing them succeed with their goals brings satisfaction. With knowledge of the Safari industry built up over 32 years he is well qualified to give guidance to his hunting clients.