South Africa is known for its diverse wildlife and exciting hunting opportunities, and one of the most popular game animals to bow hunt in this beautiful country is the Warthog. With its unique appearance and challenging nature, hunting the Warthog provides a thrilling adventure for bow hunters from around the world. In this article, we will explore the price for a bow hunt in South Africa for Warthog, as well as provide some useful information for those planning their hunting trip.
Why a African Safari for Warthog?
Warthogs are native to the African continent and are widespread in South Africa. They offer an exciting hunting experience due to their impressive size, cunning instincts, and distinctive appearance. Warthog bow hunting allows hunters to test their skills and accuracy, as these animals are known for their quick reflexes and ability to evade danger.
Moreover, a Warthog safari in South Africa provides an opportunity to immerse oneself in the breathtaking landscapes and rich wildlife that this country has to offer. From the vast open savannahs to the dense bushveld, South Africa's diverse terrain adds to the thrill of the hunt and creates unforgettable memories.
What is the price in South Africa for a Warthog Bow Hunt?
The price in South Africa to bow hunt Warthog or the trophy fee is: $ 650.
This is the fee for the animal, Warthog are some of the most affordable animals to hunt. To this you still need to add the day fees for the hunt.
Contact us for any additional information and bow hunting prices for the 2024 hunting season.
South African Day Fees for A Trophy Warthog Hunt
If you hunt 2 X 1 in other words you share the hunt and opportunities with a friend – wife – son the price is $ 350 per day for each hunter.
If you hunt 1 X 1 in other words you have the services of a guide to yourself and do not share the animals and opportunities with anyone else the price is $ 450 per day.
2 X 1 @ $ 350 per person per day or 1 X 1 @ 450 per person per day.
So the final inclusive price for the hunting trip will be number of days x the day fee plus the animal fee.
7 days X $ 350 = $ 2 450 + Trophy fee $ 650 for a Total Cost of $ 3 100
What is included in the day fees?
Daily Rate for a Plains Game hunt Includes
Guide Fees
Licenses
Meals
Accommodation
Soft drinks
limited Beer and Wine
Field preparation of your animals
Road transportation from Johannesburg International Airport
For more information take a look at the price list.
What is not included in the day fee?
Daily Rate Excludes
Airfare or flight
Taxidermist charges
Gratuities
Items of a personal nature
VAT on day fees at 15%
Safari Insurance
CITIES Permits
Rifle hire
What is the cost of a bow hunt Package to Hunt Warthog?
The price of a bow hunting Package that includes a Warthog is: $ 3 100
This hunt package includes 7 hunting days, 1 plains game Trophy Animal – Waterbuck. It also includes Accommodation, meals and soft drinks, the services of a professional hunting guide, the skinning and field preparation of your trophies and road transportation to and from Johannesburg International airport.
Please note: This price is for hunting 2 X 1. If hunting 1 X 1 the cost is $ 3 800.
To embark on an unforgettable South African bow hunting experience for Warthog, it's crucial to select the right package. Several factors influence the cost, including the duration of the hunt, the number of animals included, and the quality of accommodations. Generally, packages range from basic options to luxurious experiences, catering to different preferences and budgets.
The best Warthog hunting is in the Limpopo province and Eastern Cape region of South Africa where these animals are abundant.
Consider a South African hunting trip that includes the Classic Package with 7 hunting days and 4 plains game species – Warthog, Impala, Blesbuck and Blue Wildebeest at a 2 on 1 cost of $ 5 550.
You might also think about including a Cape Buffalo, Kudu, Springbok or Nyala on your Africa hunt. As for hunting methods, you will have the choice of spot and stalk or still hunting from a blind over a waterhole or wallow.
Factors Affecting the Price of a Hunting Safari
The price to bow hunt in South Africa can vary depending on several factors. These factors include:
Outfitter or Hunting Company:
Different outfitters offer varying prices based on the services they provide, such as accommodation, meals, professional guides, and transportation. It is essential to research and choose a reputable outfitter that aligns with your budget and expectations.
Hunting Area:
The location of the hunting area can influence the price. Some areas are more abundant with Warthog populations, while others may require more extensive tracking and scouting.
Trophy Quality:
The size and quality of the Warthog trophy can also impact the price. Larger tusks and impressive physical characteristics of Warthog boars often come at a higher cost and make a great trophy.
Hunting Package:
Outfitters typically offer different packages that include specific services and amenities. These packages can range from basic guided hunts to luxurious, all-inclusive experiences. The price will vary accordingly.
Average Price Range of an African Hunt
The price of a Warthog trip in South Africa can range from $ 650 to $ 3,800. This price range usually includes a 5-7 day package with accommodation, meals, professional guide services, and the opportunity to harvest one Warthog trophy.
It is important to note that the cost mentioned above is an average and can vary depending on the factors mentioned earlier. Some companies may offer more budget-friendly options, while others may provide exclusive experiences at a higher price point.
Additional Costs to Consider
In addition to the package, there are a few additional costs that hunters should consider when planning their bow hunting trip for Warthog:
Travel Expenses:
This includes international airfare, domestic transportation within South Africa, and any visa requirements. It is advisable to research and budget for these expenses in advance.
Trophy Preparation and Shipping:
If you plan to bring your Warthog trophy back home, there may be costs associated with taxidermy, dip and pack and shipping. It is crucial to consult with a reputable taxidermist for accurate information on these expenses.
Tips and Gratuities:
It is customary to tip the professional hunter and staff who assist you during your hunting trip. While the amount is at your discretion, it is recommended to budget for gratuities as a gesture of appreciation for their services.
Shot Placement
When hunting big game like Warthog shot placement becomes really important. The ideal shot on an old boar is broadside aim tight behind the shoulder one third of the way up from the brisket to hit the lungs. The second best option is the quartering away position, aim to exit on the offside front shoulder for for a shot into the vitals. Since the average shot distance is at close range you can make sure your shots are well placed.
Conclusion
Bow hunting Warthog in South Africa offers a thrilling and memorable experience for hunting enthusiasts. With its unique characteristics and challenging nature, hunting a Warthog requires skill, accuracy, and a sense of adventure. The price for this exciting hunting opportunity can vary depending on factors such as outfitter choice, hunting area, trophy quality, and hunting package. It is essential to consider these factors, as well as additional costs like travel expenses and trophy preparation, when planning your hunting trip. By doing so, you can ensure a successful and enjoyable African hunting Safari in the beautiful wilderness of Southern Africa.
FAQ's Frequently Asked Questions
Why should I choose to bow hunt in Southern Africa for Warthog?
A Warthog archery hunt in Southern Africa offers an exciting experience due to their impressive size, cunning instincts, and distinctive appearance. It allows you to test your skills and accuracy as a bow hunter and immerse yourself in the breathtaking landscapes and rich wildlife of the country.
What factors can affect the price of Warthog hunting in Africa?
The price can vary depending on the hunting company you choose, the hunting area's location and size, the trophy quality of the Warthog, and the specific package you opt for.
What is the average price range for Warthog hunting in Africa?
The average price range is between $ 650 and $ 3,800, which typically includes a 5-7 day package with accommodation, meals, professional guides, and transportation.
How can to choose the right company for hunting in Africa?
It is essential to research and choose a reputable company that aligns with your budget and expectations. Consider factors such as their services, accommodations, meals, professional guides, and transportation options before making a decision.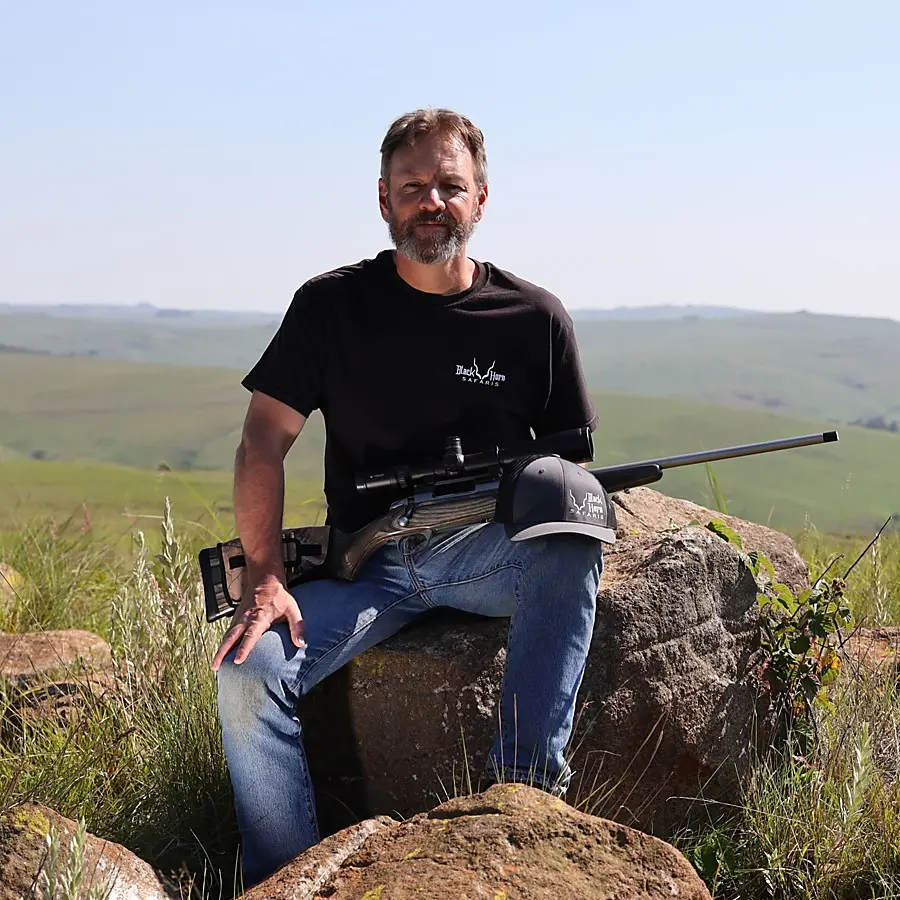 Adrian Anderson first obtained his Professional Hunters license in 1991. He is a Big Five and Dangerous Game licensed Professional Hunter and Hunting Outfitter. He has a tremendous love for wildlife and the African bush and enjoys sharing his knowledge with the hunting clients that he guides. Guiding hunters in Africa's wild places is a passion and seeing them succeed with their goals brings satisfaction. With knowledge of the Safari industry built up over 32 years he is well qualified to give guidance to his hunting clients.